FOX NEWS FIRST: Anti-Trump texts prompt scrutiny of FBI deputy director; Tax reform hits potential roadblock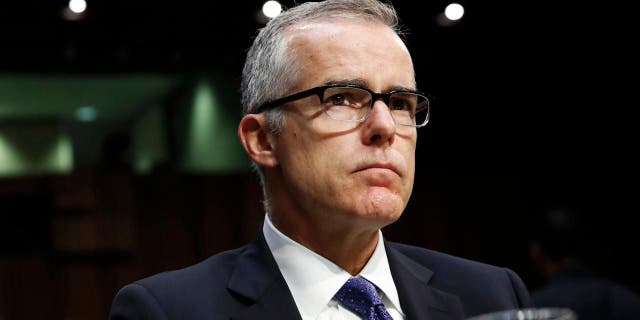 NEWYou can now listen to Fox News articles!
Welcome to Fox News First. Not signed up yet? Click here.
Developing now, Friday, Dec. 15, 2017:
FBI Deputy Director Andrew McCabe faces scrutiny as GOP lawmakers pore over anti-Trump texts in probes of Russia and Clinton emails
GOP tax reform hits a potential roadblock as key Senate Republicans Marco Rubio and Mike Lee hold back support
Omarosa vows to tell all about her White House experience amid new questions about departure
NYPD reviewing rape allegations against hip-hop mogul Russell Simmons
THE LEAD STORY: Top Republicans are turning their focus to FBI Deputy Director Andrew McCabe as they examine a series of anti-Trump texts between two bureau officials who were members of Special Counsel Robert Mueller's Russia probe. Specifically, they are raising questions about an exchange that referenced an "insurance policy" against a Trump presidency ... That text was revealed Tuesday night when the Justice Department released hundreds of messages between FBI officials Peter Strzok and Lisa Page, who were romantically involved. "I want to believe the path you threw out for consideration in Andy's office - that there's no way he gets elected - but I'm afraid we can't take that risk," Strzok texted on Aug. 15, 2016. "It's like an insurance policy in the unlikely event you die before you're 40." Some lawmakers believe "Andy" refers to McCabe, and want to know about his communications with Page and Strzok.
This is just one of several new revelations that have cast doubt on the FBI's integrity and objectivity. Newly released documents obtained by Fox News reveal that then-FBI Director James Comey's draft statement on the Hillary Clinton email probe was edited numerous times in ways that seemed to water down the bureau's findings.
TAX REFORM HOLDOUTS?: Republican Sens. Marco Rubio and Mike Lee indicated Thursday they were holding back support for the final $1.5 trillion GOP tax reform bill unless a larger child tax credit is included ... "My requests have been reasonable and direct," Florida's Rubio told Fox News on Thursday, saying the Republican leadership was aware of his demands. A spokesman for Utah's Lee said he was "undecided" on the bill in its current form. Both Rubio and Lee have advocated for a $3,000 tax credit per child in the bill. The House and Senate have passed separate tax bills, but they now have to blend them into a final piece of legislation. Republicans, with a 52-48 majority in the Senate, can afford to lose only two votes in the Senate.
OMAROSA'S STORY: Omarosa is vowing to tell the world about her time in the Trump administration "when the time is right" amid conflicting details about her departure ... The former "Apprentice" star has repeatedly denied she was fired from her job as a White House liaison for constituent groups, adding that reports that she was escorted off the White House grounds were "100 percent false." White House Chief of Staff John Kelly personally told Omarosa that her White House employment had been terminated, despite her insistence to the contrary, Fox News learned. Kelly gave her the news in the White House Situation Room, a space under the West Wing where electronic and recording devices must be surrendered at the door.
RUSSELL SIMMONS TO FACE RAPE CHARGES?: The New York Police Department is reviewing allegations of rape and sexual assault against Def Jam co-founder Russell Simmons, an NYPD spokeswoman confirmed to Fox News late Thursday ... Simmons has been dogged by allegations of sexual misconduct for weeks. On Wednesday, the New York Times reported that three women were accused Simmons of raping them in the 1980s and 1990s. Simmons has repeatedly denied the allegations, writing on Instagram Thursday that "I will prove without any doubt that I am innocent of all rape charges."
AS SEEN ON FOX NEWS
TROUBLING TEXTS: "This [text] is the one that concerns me the most. 'Andy' is presumably Andrew McCabe ... and this text is very troubling because it suggests that they're doing something, they have a plan to take action to make sure that Donald Trump does not get elected president of the United States at the highest levels of the Federal Bureau of Investigation." – House Judiciary Committee Chairman Bob Goodlatte, on "Fox & Friends," explaining why he has questions about the anti-Trump texts exchanged by two FBI officials. WATCH
THE BUCK STOPS WITH COMEY: "He is responsible for it, he was the director of the FBI. I also don't think it matters the ideological predilections of the editor. The person who signed it, the person who delivered it is responsible for it." - Judge Andrew Napolitano, on "Special Report," arguing that it doesn't matter who made the edits to his final statement on the Hillary Clinton email investigation, now-former FBI Director James Comey is still responsible for them. WATCH
ACROSS THE NATION
Driver at Charlottesville rally now facing first-degree murder charge.
Philadelphia City Council approves bill to remove bulletproof glass from storefronts.
Widow of Kentucky State Rep. Dan Johnson says she'll pursue his seat.
MINDING YOUR BUSINESS
Does Disney-Fox deal signal confidence for the AT&T-Time Warner deal?
Net neutrality repeal a 'blow to binge watchers.'
$15 minimum wage to cost California 400K jobs: Study
NEW IN FOX NEWS OPINION
Democrats are losing support from many as they move further left.
Newt Gingrich: My fellow Republicans, a Democratic wave election is coming unless we act right now.
Judith Miller: Is it time for a national ID card to prevent terror attacks?
HOLLYWOOD SQUARED
How the Disney-Fox deal will play out.
Mario Batali cut from ABC's 'The Chew.'
'Star Wars: Last Jedi' big spoiler revealed in live TV interview.
DID YOU HEAR ABOUT THIS?
More Americans than ever will travel this holiday season.
Scientists 'googled' data from NASA's Kepler space telescope to discover new planet.
'Stormy the Christmas cow' recaptured after escaping Nativity scene – twice.
STAY TUNED
On Fox News:
Fox & Friends, 6 a.m. ET: Exclusive interview: FCC Commissioner Ajit Pai discusses the fallout from the decision to overturn net neutrality rules; attorney Victoria Toensing sounds off on the new revelations of the edits to the draft of former FBI Director James Comey's Clinton statement; plus, a celebration of National Ugly Christmas Sweater Day.
The Ingraham Angle, 10 p.m. ET: White House press secretary Sarah Huckabee Sanders responds to vicious attacks from the mainstream media and the left.
On Fox Business:
Mornings with Maria, 6 a.m. ET: Former Microsoft CEO Steve Ballmer discusses the impact of the FCC killing net neutrality regulations; former Federal Reserve Bank of Philadelphia President Charles Plosser on outgoing Federal Reserve Chair Janet Yellen; Rep. Kristi Noem talks tax reform.
Varney & Co., 9 a.m. ET: Sen. Bill Cassidy on negotiating problems with the tax reform plan; Rep. Matt Gaetz on the FBI's credibility crisis; Secretary of Veterans Affairs David Shulkin on killing plans to cut a homeless vet program and more.
Cavuto: Coast to Coast, Noon ET: Former FCC Commissioner Robert McDowell talks net neutrality.
On Fox News Radio:
The Fox News Rundown podcast: Check out the Fox News Rundown! Fox News Radio's new long-form podcast features insights from top newsmakers, along with reporters and contributors from across all Fox News Channel platforms. All episodes of this podcast can be found at: www.foxnewsrundown.com. Want it sent straight to your mobile device? Subscribe through Apple Podcasts, Google Play, and Stitcher.
#OnThisDay
1971: The Secret Service appoints its first five female special agents.
1939: "Gone with the Wind," starring Vivien Leigh and Clark Gable, has its world premiere in Atlanta.
1890: Sitting Bull and 11 other tribe members are killed in Grand River, S.D., during a confrontation with Indian police.
Thank you for joining us on Fox News First! Enjoy your Friday, and weekend! We'll see you in your inbox first thing Monday morning.