FOX NEWS FIRST: Anti-Trump FBI agent Strzok expected on hot seat; Round 2 for Trump at NATO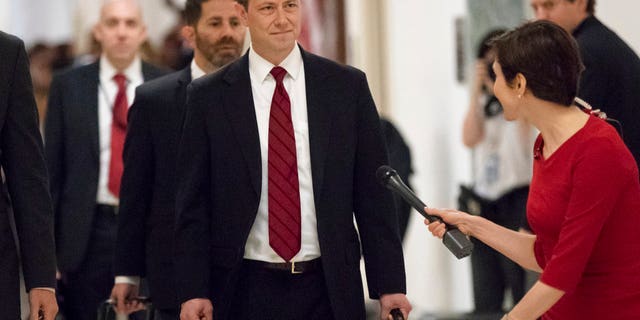 Welcome to FOX News First. Not signed up yet? Click here.
Developing now, Thursday, July 12, 2018
Anti-Trump FBI agent Peter Strzok is expected to testify before Congress on Thursday, one day after his ex-lover and colleague Lisa Page defied a congressional subpoena
President Trump attends a second day of NATO meetings in Brussels after tense confrontations Wednesday, and will later make his first trip to Britain as commander-in-chief
Porn star Stormy Daniels, who alleges she had an affair with President Trump, was arrested early Thursday while performing at an Ohio strip club, her attorney told FOX News
Croatia shocked England 2-1 on Wednesday, setting up a showdown with France in Sunday's World Cup final
Emmy nominations will be announced Thursday, with HBO's "Game of Thrones," NBC's "This Is Us" and CBS' "Mom" expected to be among the top contenders
THE LEAD STORY - ANTI-TRUMP FBI AGENT FACES GRILLING - Embattled anti-Trump FBI agent Peter Strzok is set to testify publicly for the first time on Thursday before House Republicans investigating bias at the nation's top law enforcement agency, just one day after his former lover at the FBI, attorney Lisa Page, ducked a congressional subpoena ... GOP leaders are expected to grill Strzok at a joint session of the House Oversight and Judiciary committees beginning at 10 a.m. ET. Their focus will be the slew of Trump-bashing texts Strzok sent using his FBI phone while conducting investigations into Russian election meddling and Hillary Clinton's email server, as well as the possible impact of any political bias on investigative decisions. Strzok was removed from Special Counsel Robert Mueller's Russia probe earlier this year after his texts were revealed.
It appeared Wednesday night that Strzok, who in June testified before a GOP panel in a closed-door setting, would not follow Page's lead and back out at the last minute. Still, Strzok's attorney suggested just last week that the proceedings might be a "trap" and did not commit to his attendance.
NO ROYAL WELCOME FOR TRUMP: President Trump will make his first trip to Britain as president after a tense summit with NATO leaders in Brussels that began Wednesday ... The president's visit also comes amid turmoil in British Prime Minister Theresa May's government because of the crisis over Britain's exit from the European Union. Trump was expected to largely steer clear of London, where protests are planned and where organizers had permission to fly a blimp over Parliament portraying him as an orange crying baby. He is scheduled to join May for a black-tie dinner Thursday at Blenheim Palace, Churchill's birthplace near Oxford, at the start of his trip.
Trump's visit to Britain comes as NATO leaders have pledged their "unwavering commitment" to boost defense spending, following stern words from the president Wednesday criticizing European leaders for spending too little. The U.S. and European allies signed a declaration stating they are "committed to improving the balance of sharing the costs and responsibilities of alliance membership." The declaration came after confrontational and testy discussions between Trump and other NATO leaders.
STORM CLOUDS: Stormy Daniels, the porn star who claims to have had an affair with President Trump, was arrested early Thursday while performing at a strip club in Columbus, Ohio, her lawyer Michael Avenatti told Fox News ... Columbus police did not confirm the arrest to Fox News. Avenatti, wrote in a follow-up tweet that Daniels was arrested for "allegedly allowing a customer to touch her while on stage in a non sexual manner." he called the arrest "politically-motivated" and vowed to fight "all bogus charges."
Daniels, whose real name is Stephanie Clifford, has said she had sex with Trump in 2006 when he was married, which Trump has denied. She's suing Trump and his former longtime personal lawyer Michael Cohen and seeking to invalidate a nondisclosure agreement that she signed days before the 2016 presidential election.
STAGE SET FOR WORLD CUP FINAL: Mario Mandzukic scored in the 109th minute of extra time Wednesday to send Croatia past England and into Sunday's World Cup final against France with a 2-1 victory ... England, which was hoping to reach its first World Cup final since its golden year of 1966, will play Belgium in Saturday's third-place match. England had its fans dreaming of a berth in the final when Kieran Trippier curled a fifth-minute free kick into the Croatia net. But Croatia clawed its way back into the match and equalized in the 68th minute when Ivan Perisic beat Kyle Walker to Sime Vrsaljko's cross and finished past Jordan Pickford.
'GAME' OF EMMYS: Blockbuster movies typically are snubbed by the Oscars, leaving fans grumbling. Television's top prize takes a different approach. When the 70th Emmy nominees are announced at 11:25 a.m. ET Thursday, popular series including HBO's "Game of Thrones," NBC's "This Is Us" and CBS' "Mom" are likely to get their share of recognition ... The fantasy saga based on George R.R. Martin's novels is a two-time best drama series winner, back in the running for honors for its next-to-last season after a production delay kept it out of the 2017 competition.
"Game of Thrones" holds the series record for most awards in a year, a dozen, which it set in 2015 and matched the following year, and with a total of 38 Emmys stands as the most-honored drama ever. Its biggest adversary is "The Handmaid's Tale," the dystopian drama that last year captured the top series prize and acting awards for Elisabeth Moss, Ann Dowd and Alexis Bledel among its eight wins.
AS SEEN ON FOX NEWS
TRUMP'S STONE COLD TRUTH: "I think it's very healthy for the American president to stand up and tell the truth, and what he has said is basically true." – Newt Gingrich, on "Outnumbered Overtime," explaining the importance of President Trump's "very important" confrontation at the NATO summit with European leaders. WATCH
NO APOLOGIES: "You can't want to be part of this country and not respect its laws. You can't have it both ways. Not under this president ... ICE protects your communities and we're going to do it without apology." – Former Acting ICE Director Thomas Homan, on "Outnumbered," blasting Democrats who are looking to abolish the agency and accusing them of misinforming the public. WATCH
THE SUPREME BATTLE
Liberals attack Brett Kavanaugh for 'frat boy' name.
Kavanaugh's confirmation climb: Partisan opposition to court picks intensifies under Trump.
Progressives attack liberal law professor for defending Kavanaugh.
TRENDING
Forbes ripped for calling Kylie Jenner 'self-made' billionaire on magazine cover.
Rumored Taylor Swift visit leads Capitol Hill interns, media on frantic search.
NYC Mayor de Blasio disputes Border Protection allegations he crossed border illegally.
Woman accidentally stole car, kept it for two weeks.
Border Patrol agents rescue abandoned 3-year-old girl in Texas.
THE SWAMP
Pence assails McCaskill's record during Missouri visit, says state 'deserves better'
Republican Sen. Heller uses Obama's words to mock Dem rival Rosen's business claims.
GOP candidate Katie Arrington back to campaign trail after car wreck: 'You just can't break me.'
ACROSS THE NATION
Cost of anti-ICE protests prompts California county to forgo $3M federal contract.
University of Wyoming's 'cowboy' slogan rustles up some controversy.
U.S. Navy dedicates destroyer to Sen. John McCain.
Academy Sports manager fired weeks after intercepting gun thief suspect in Florida store, lawyer says.
MINDING YOUR BUSINESS
Papa John's founder Schnatter resigns as chairman over N-word controversy.
Gasparino: EXCLUSIVE - Justice Dept. decides to appeal AT&T case, but getting resistance from solicitor general.
Comcast raises Sky offer after FOX sweetens its bid.
FOX, Sky and Comcast: Three possible outcomes of the media merger mania.
Stocks slide as US prepares $200B in tariffs on Chinese goods.
Monsanto to be flooded with thousands of cancer-related lawsuits.
FOX NEWS OPINION
Judge Andrew Napolitano: Why I am so deeply disappointed by Trump's Supreme Court pick.
Dana Perino: Ten years after Tony Snow died much too young, I remember the important things he taught me.
Todd Starnes: Desecrated American flag moved at University of Kansas.
Bruce Riley Ashford: Thai cave rescue: Don't forget man who made ultimate sacrifice so that boys, coach could live.
HOLLYWOOD SQUARED
Mira Sorvino says she was offered 'several times' to have a 'sexual relationship' in exchange for a role
Maggie Gyllenhaal, Ryan Reynolds, and more stars rally to read mom's letter after she was separated from 2-year-old son.
Tyler Perry warns about Facebook scams using his name in viral video.
DID YOU HEAR ABOUT THIS?
Armless Miami man charged with stabbing Chicago tourist.
Earliest evidence of our human ancestors outside of Africa found.
How did the massive 'salty' crocodile captured in Australia get so big?
STAY TUNED
On FOX News:
FOX & Friends, 6 a.m. ET: FOX News will have the latest updates from the NATO summit. Kellyanne Conway and Dana Loesch will lend insight on the top news headlines surrounding the Trump administration. "In the FoxLight": Michael Tammero will have an exclusive interview with Kevin Costner.
The Story with Martha MacCallum, 7 p.m. ET: Tune in as Martha MacCallum will be live in London with special guests Piers Morgan and Jeremy Hunt, Britain's Secretary of State for Foreign and Commonwealth Affairs.
Hannity, 9 p.m. ET: Sean Hannity will be live from London, with the latest insight on President Trump's trip to Britain.
On FOX Business:
Mornings with Maria, 6 a.m. ET: Guests include: House Judiciary Chairman Bob Goodlatte; Rep. Jeb Hensarling; Haley Barbour, former Mississippi governor.
Varney & Co., 9 a.m. ET: Nile Gardiner, former aide to British Prime Minister Margaret Thatcher; Tim Phillips, president of Americans for Prosperity; John Hofmeister, former Shell Oil president; Newt Gingrich; Rep. Todd Rokita; Brandon Judd, Border Patrol Union president.
Cavuto: Coast to Coast, Noon ET: Tom Coburn, former U.S. senator; Robert Charles, former assistant secretary of state under President George W. Bush.
The Intelligence Report, 2 p.m ET: Sen. Markwayne Mullin.
Countdown to the Closing Bell, 3 p.m. ET: Charles Gasparino will be live from the Sun Valley Conference; other guests include: Jason Katz, managing director of Senior Portfolio Manager; Mohamed El-Erian, Allianz chief economic adviser; John Hannah, senior counselor at the Foundation for Defense of Democracies.
On FOX News Radio:
The FOX News Rundown podcast: California Gov. Jerry Brown recently signed AB 1810, which allows those accused of a crime or felony to argue it was motivated by mental illness. Two experts join the podcast to weigh in on the controversial so-called budget "trailer bill." The NFL Players Association filed a grievance with the NFL over its new policy on national anthem protests, which gives players the option of staying in the locker room, rather than kneeling on the field. FOX News Headlines 24/7 sports reporter Jared Max weighs in. Plus, commentary by Judge Andrew Napolitano.
Want the FOX News Rundown sent straight to your mobile device? Subscribe through Apple Podcasts, Google Play, and Stitcher.
The Brian Kilmeade Show, 9 a.m. ET: Ed Rollins on President Trump at NATO, the latest on Robert Mueller's Russia probe and the battle over Supreme Court pick Brett Kavanaugh; Steve Doocy on Peter Strzok's anticipated testimony on Capitol Hill; Morgan Ortagus on the NATO summit and Trump's upcoming sitdown with Putin.
#OnThisDay
2008: Former White House press secretary and FOX News host Tony Snow dies in Washington, D.C. at age 53. He is fondly remembered and still very missed by friends and colleagues.
1960: The Etch A Sketch Magic Screen drawing toy, invented by French electrician Andre Cassagnes, is first produced by the Ohio Art Co.
1862: During the Civil War, President Abraham Lincoln signs a bill authorizing the Army Medal of Honor.
Fox News First is compiled by Fox News' Bryan Robinson. Thank you for joining us! Enjoy your day! We'll see you in your inbox first thing Friday morning.