Four Nabbed for Allegedly Posing as Victims of Calif. Gas Blast as Investigation Continues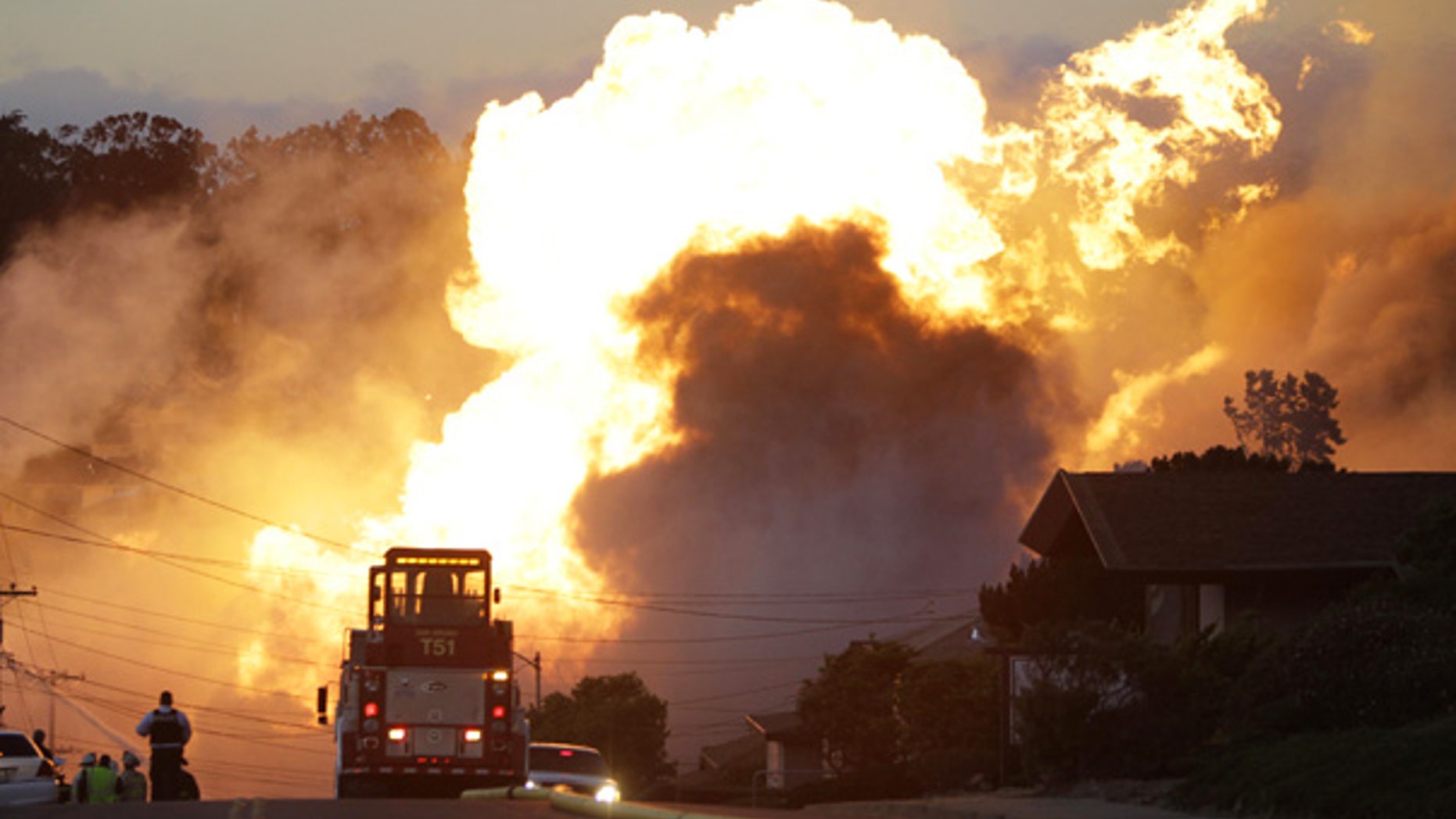 Four people were arrested for allegedly posing as victims of the gas pipeline explosion in San Bruno, Calif., as Gov. Arnold Schwarzenegger made his first official stop at the site of the massive blast in the San Francisco suburb.
The suspects allegedly submitted applications for driver's licenses and falsely claimed that they lived in the area where four people were killed and 37 homes were destroyed on Sept. 9, in an attempt to take advantage of the aid that is being provided to those affected by the disaster, the San Francisco Chronicle reported Thursday..
Had their scheme succeeded, they could have received free cell phones and gift cards from Pacific Gas and Electric (PG&E) and local clothing and grocery stores.
Niesha Taylor and Deonte Bennett, of San Francisco, and Sonya Smith and Lisa Justin, who live at a San Bruno home three miles from where the explosion occurred, were all arrested Tuesday. They have been booked in San Mateo County Jail on suspicion of burglary, perjury and submitting false or forged documents to a government agency, the Chronicle reported.
Earlier this week, PG&E announced it was setting up a $100 million fund to help residents restore their property. Last week, California Lt. Gov. Abel Maldonado said the utility giant had also committed to providing temporary housing, food, clothing and other essentials to victims of the blast.
Meanwhile, Gov. Schwarzenegger held a news conference and was briefed individually by city, state and federal officials, at least one of whom prompted the governor to wipe tears from his eyes. He also talked with some residents and first responders informally, according to a spokeswoman.
Three people are still listed as missing, authorities said. They all lived at the same address, just yards from the source of the blast.
The governor said that the day after the explosion, he spoke to President Barack Obama by telephone and requested a federal disaster declaration.
Speaking from a vantage point overlooking a massive crater and destroyed homes, Schwarzenegger credited emergency personnel and others for their fast response.
His backdrop was the charred, barren trees, mangled houses, and a San Bruno fire command vehicle with a map taped on its side showing the blast site, affected homes and state wildfires.
"Every fire expert can tell you that what you do the first few hours is what counts, and I think they responded quickly those first few hours," Schwarzenegger said.
He did not say if that included PG&E officials, who have been criticized for being slow in turning off a valve controlling the gas.
Pacific Gas & Electric Co. President Chris Johns told reporters that manual valves, like the ones workers had to shut in order to close off the flow of natural gas in the pipeline, are used by utilities nationwide.
Johns said the company responded immediately and suggested that heavy traffic might have contributed to a delay in getting the valves closed after the explosion.
Safety is a core company value, he said.
"There is nothing more urgent than maintaining the safety of our pipelines and of our electric lines," Johns said.
The governor took the microphone back as reporters peppered Johns with questions.
"I will make sure that we will get every single detail," Schwarzenegger said, promising a thorough and open investigation. "I'm back now, and I'm going to drill down into that information."
California state Sen. Leland Yee told The Associated Press after the press conference that it was a "no brainer" that there should have been automatic valves.
"Their pipes are what we call a high risk area and there ought to have been an automatic shut-off," said Yee, who represents the neighborhood.
NTSB lead investigator for the explosion, Ravindra Chhatre, said the ruptured pipe was "probably two-thirds of the way to Washington D.C.," where it will be tested to determine how and where it was fractured. He provided no further details on the investigation.
The Associated Press and Newscore contributed to this report.