Florida Unemployment Agency Cancels Campaign Giving Job Seekers Superhero Capes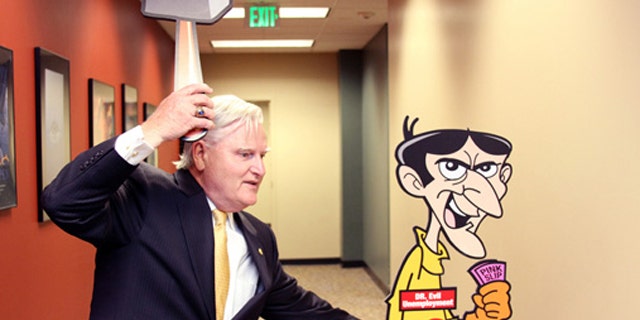 A Florida unemployment agency that spent thousands of dollars on red capes to hand out to job seekers will stop the "admittedly out-of-the-box creative campaign," FoxNews.com has learned.
Officials at Workplace Central Florida announced that its "Cape-A-Bility Challenge" will be withdrawn later Wednesday, nine days after it was launched on April 11 as a way for jobless Floridians to feel better about themselves while taking on "Dr. Evil Unemployment" in the agency's comic book-themed campaign.
"Even though it seemed to offend some, it was the farthest thing from our intention, which was to introduce our programs and services to job seekers and employers who need them," Board Chairman Owen Wentworth said in a statement obtained by FoxNews.com.
The decision was made Wednesday after criticism surfaced that the campaign may have been a "little too out-of-the-box and missed the mark with such a broad audience," the statement continued.
Florida's unemployment agency director asked Monday for an investigation of the regional operation's spending after the Orlando Sentinel published a story about the program. State director Cynthia Lorenzo said the spending appeared to be "insensitive and wasteful."
Workforce Central Florida -- a federally-funded labor development agency that last year received almost $24 million in public money -- spent more than $14,000 on the red capes as part of the public relations campaign. The campaign featured a cartoon character, "Dr. Evil Unemployment," who needs to be vanquished.
Prior to Wednesday's announcement, Workforce Central Florida Director Gary J. Earl defended the program, saying it is part of a greater effort to connect with the community. The agency said it served 210,000 people during its last fiscal year, placing nearly 59,000 in jobs.
Job seekers like Gregory Bryant told WFTV.com that the capes are a waste of money and that he's offended by the cartoon-like portrayal of being unemployed.
"It's a mockery to Americans," he told the website.
Workforce Central Florida was previously investigated by state officials in 2006, when it was ordered to repay nearly $3.5 million to the federal government to settle claims that it misused public money, WFTV.com reports.
Click here for more on this report from WFTV.com.
Click here for more on the Cape-A-Bility Challenge.
FoxNews.com's Joshua Rhett Miller and The Associated Press contributed to this report.