Florida school shooting survivors make emotional return to Stoneman Douglas
For the first time since 17 people were killed on their school campus on Valentine's Day, students, parents and teachers made an emotional return Sunday for a voluntary orientation at Marjory Stoneman Douglas High School in Parkland, Florida.
The thousands of students returned to a campus covered in signs, balloons, flowers and memorials honoring their classmates, teachers and friends who were shot in one of the deadliest massacres in modern U.S. history.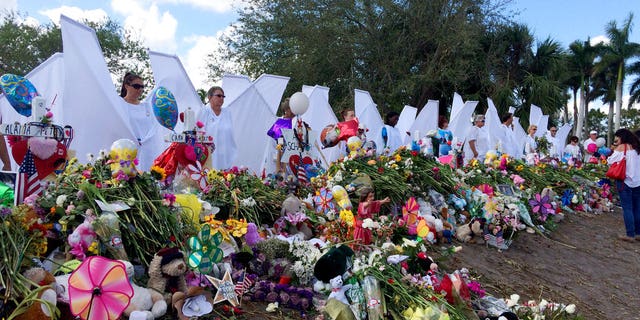 Members of the Stoneman Douglas community who are scheduled to meet with administrators to discuss the school's reopening — planned for Wednesday — appear to have mixed emotions upon their return.
Mikayla Strabitz, while set on "making a change," told WSVN she's "scared to go back."
"I don't know if I could feel safe again in a school like that," Strabitz said. "Especially knowing there are so many entrances to that school and not knowing how Nikolas Cruz got in, that's one scary thing."
The student said she doesn't expect everyone to return to campus right away, "just because I know a lot of people were in the freshman building, so going back and not being able to go to those classes, seeing their classmates is going to hit them."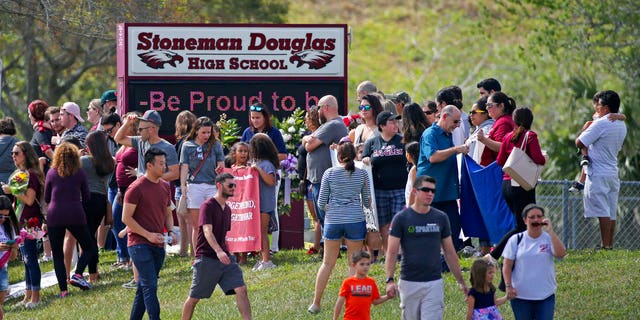 During his return to Stoneman Douglas on Sunday, Liam Kiernan, 15, brought his father to the band room closet where he hid as the shooting occurred.
"I walked in and showed him, that's where I was," Kiernan told the Miami Herald. His father, David, told the newspaper, his voice breaking: "It was tough. So tough."
In addition to showing his father the fateful spot where he hid as more than 30 others were shot, Liam said he saw the teacher who saved his life and "gave him a big hug. That was definitely a moment."
"I'm anxious to get back. I'm happy to get back. I think we need to be — it'd be nice for us all to be together."
Another student, 16-year-old Janna Volz, told the Herald that while "it was still nerve wracking" to be back on campus Sunday, she's ready to make it back to school.
Student Cameron Kasky, who's become a prominent figure of the students' "#NeverAgain" gun control movement following the shooting, echoed Volz's sentiment, tweeting Sunday that it's "good to be home."
Teacher Jim Gard, who told Fox News in the wake of the Feb. 14 massacre that the gunman was his math student, said that he's "anxious" to return to his school.
"I'm anxious to get back. I'm happy to get back," Gard told WSVN. " I think we need to be — it'd be nice for us all to be together."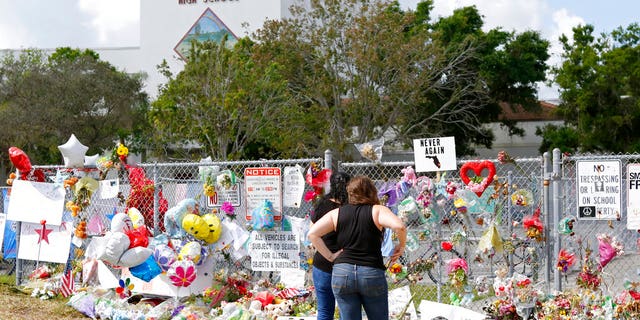 Freshman Kailey Brown expressed a similar attitude, telling The Associated Press last week that she's not scared to return to school.
"I am going to come back strong with my friends and show that we love each other so much and we are going to get through this," Brown, who was in the building where the shooting took place, said.
The Associated Press contributed to this report.