Florida man accused of double murder wheeled into court screaming 'God,' shouts at judge before bond denied
The first appearance in court of a man accused of fatally shooting two people at an apartment complex in Florida on Sunday swiftly went off the rails as the defendant began screaming for a higher power as he was wheeled in and then began shouting at the judge.
Damon Kemp, 19, was brought into court screaming while screaming "God!" for his appearance in Daytona Beach -- even as staff warned him to be quiet.
"I've reviewed your arrest and determined there's probable cause for your arrest," the judge said over Kemp's shouting. "I've appointed the public defender to represent you so you have a lawyer, this morning."
During the hearing, Kemp's eyes could be seen darting around as he made odd facial expressions before ultimately being denied bond, FOX35 reported.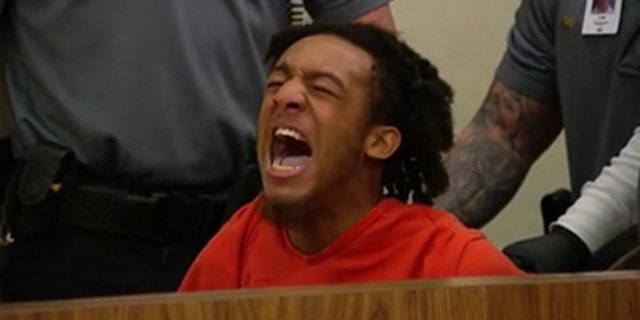 Kemp was charged with two counts of second-degree murder for the shooting deaths of Treay Ingraham and Jordan Paden, who were both his roommates.
Police said that Ingraham and Paden let Kemp stay with them at their Daytona Beach apartment, and were trying to help him.
INDIANA BOY, 16, ARRESTED IN KILLING OF PREGNANT HIGH SCHOOL CHEERLEADER
As bailiffs wheeled Kemp out, Ingraham's relatives couldn't hold back their anger and began shouting, FOX35 reported.
"Day-Day, why would you do that to Treay?" one of them pleaded, "Day-Day, I fed you, Treay fed you! He let you live in his house rent-free, why would you do that to Treay, Day-Day?! Day-Day's wrong for that! He's wrong for that!"
Ingraham's distraught mother, Nerissa Carter Young, told FOX35 she was desperate to know why her son is dead.
"Even the young man who committed this crime, or they say committed this crime -- all of them only 19. All of them just babies," Young said.