Florida Governor DeRails Bullet Train, But Supporters Go Full Steam Ahead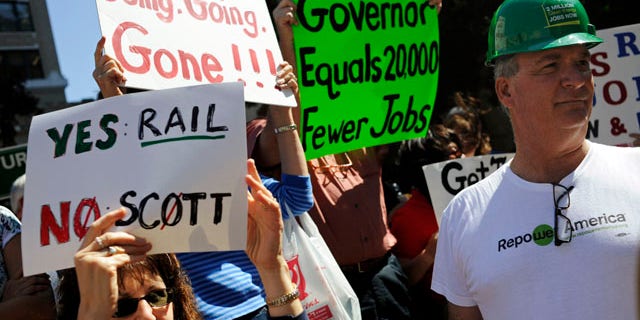 Last week, Florida Gov. Rick Scott killed the bullet train project that would have connected Tampa to Orlando, wiping out tens of thousands of jobs. A total of $2.4 billion in federal funds will be handed back, MyFoxTampaBay reports.
Many local leaders are still pushing for a high-speed rail and supporters rallied in downtown Tampa despite the strong opposition.
Tampa Mayor Pam Iorio and state leaders are not giving up just yet. They hope to resurrect the rail project by privatizing it.
Mayor Iorio, along with the city attorney, met with all five candidates for Tampa mayor to share a new plan of attack.
"The private sector believes this project can work and they will be willing to absorb the risk," said Iorio.
This is how it would work: an independent group or entity would be created; that group would oversee the $2.4 billion project. State and federal transportation officials would assist in technical support.
But, most importantly, taxpayers would be off the hook entirely. Instead, private-sector money would pick up the bill for any additional costs.
Iorio says to picture their new plan working the way an airport does.
"The government doesn't run the airlines. The private sector runs the airlines; they're responsible for their losses and they take the risk, " said Iorio.
All five candidates agreed the plan is a win-win for the state, but it will still need the governor's blessing to go forward.
Local leaders will present the plan in the next 48 hours and we could have the governor's decision by the end of the week.