Florida fishermen post gruesome videos and images on social media as authorities struggle to stop them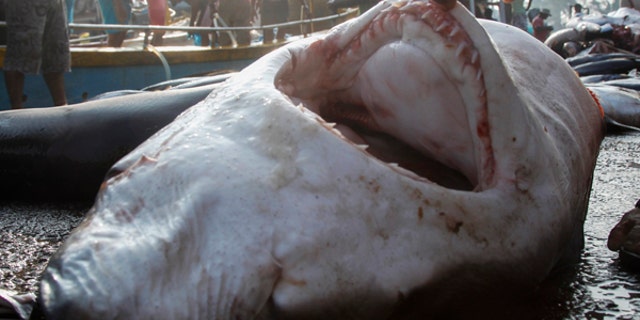 Gruesome images of fish being dragged behind boats and shot with handguns in apparent violation of state and local laws are popping up online with more frequency--marking a disturbing trend and drawing the ire of conservationists and wildlife officials in Florida.
The outrage kicked into high gear in July when a video turned up showing a group of anglers in the Gulf Coast dragging a hooked shark behind their boat. The video went viral, along with accompanying photos of the disfigured shark. The group became the new poster boys for deep sea misbehavior by young men and led to questions about how they could be prosecuted.
"We documented dozens of cases of illegal interactions with protected species, including bringing protected species completely out of the water and delaying release to measure the shark," a group of researchers wrote in a study in the journal Fisheries Research about online posts made by these land-based shark louts. "Additionally, reported fishing practices did not change following the introduction of new legal protections for hammerhead and tiger sharks."
The study added: "Discussions on how to avoid getting caught, as well as how to avoid arrest or prosecution if caught, suggest that some anglers are aware that their practices are illegal."
While the direction in sport fishing in recent years has been catch and release – with many fishing tournaments now relying on photos and the honor system instead of weighing and measuring dead fish – law enforcement in Florida note that killing fish, sometimes brutally, still remains too common among a subset of the fishing community who think it's amusing sport.
Florida's Fish and Wildlife Conservation Commission created a unit in 2006 to investigate the crimes being publicized on social media channels like Facebook and Instagram – and then expanded it in 2009. But officials at the agency say it is difficult to catch and prosecute the offenders. Of the 550 investigations the state carried out in recent years, 280, or nearly half, ended up with somebody receiving a citation or warning.
"As you can see, the number of investigations initiated by suspicious online activity is close to double the number of cases that officers find sufficient evidence to move forward with," Florida Fish and Wildlife Conservation Commission spokesman Rob Klepper told the Miami Herald.
The biggest problem Florida law enforcement has in prosecuting these cases is finding the culprits. They will turn off the GPS trackers on their phones and disable the clocks that log the time they snap a photo to avoid being caught.
Additionally, while some fishermen post their videos and photos on their own social media accounts, many others send them to accounts like Doyouevenfishbro where images like the bathroom selfie of a man dangling a great egret upside down and gory photos of people with fishing hooks caught in various body parts are okay. The account even includes some other explicitly racist posts.
The creator of Doyouevenfishbro, which has over 41,000 followers on Instagram, defended his social media accounts. He said that he is giving people what they want and "if you don't like my page then there is an unfollow button."
"We give laughs and uneasy stomachs for viewers with our content," said the creator who declined to reveal his identity in a Facebook message to Fox News. "The criticism can keep coming because that's what this page thrives off of."
He added: "Like I said before our page glorifies fishing accidents and puts on display morons doing things they shouldn't. Yes, I'm vulgar and yes, I'm very explicit but that's what my audience likes and that's what grabs the attention of viewers."
Florida added new legal protections for tiger sharks and three species of hammerhead sharks five years ago but the regulations appear to have done little to save them from boaters who like to post these mangled fish images.
Some even know what they are doing is wrong.
"This study identified a minimum of dozens of cases of illegal shark fishing practices among forum users, and found evidence that some users are aware that these practices are illegal," the researchers wrote in Fisheries Research study. "There was evidence that some users believe that their own practices have no effect on shark populations and should not be regulated."