Florida church responds to 'unblessing' of highway, says atheist group is desperate for attention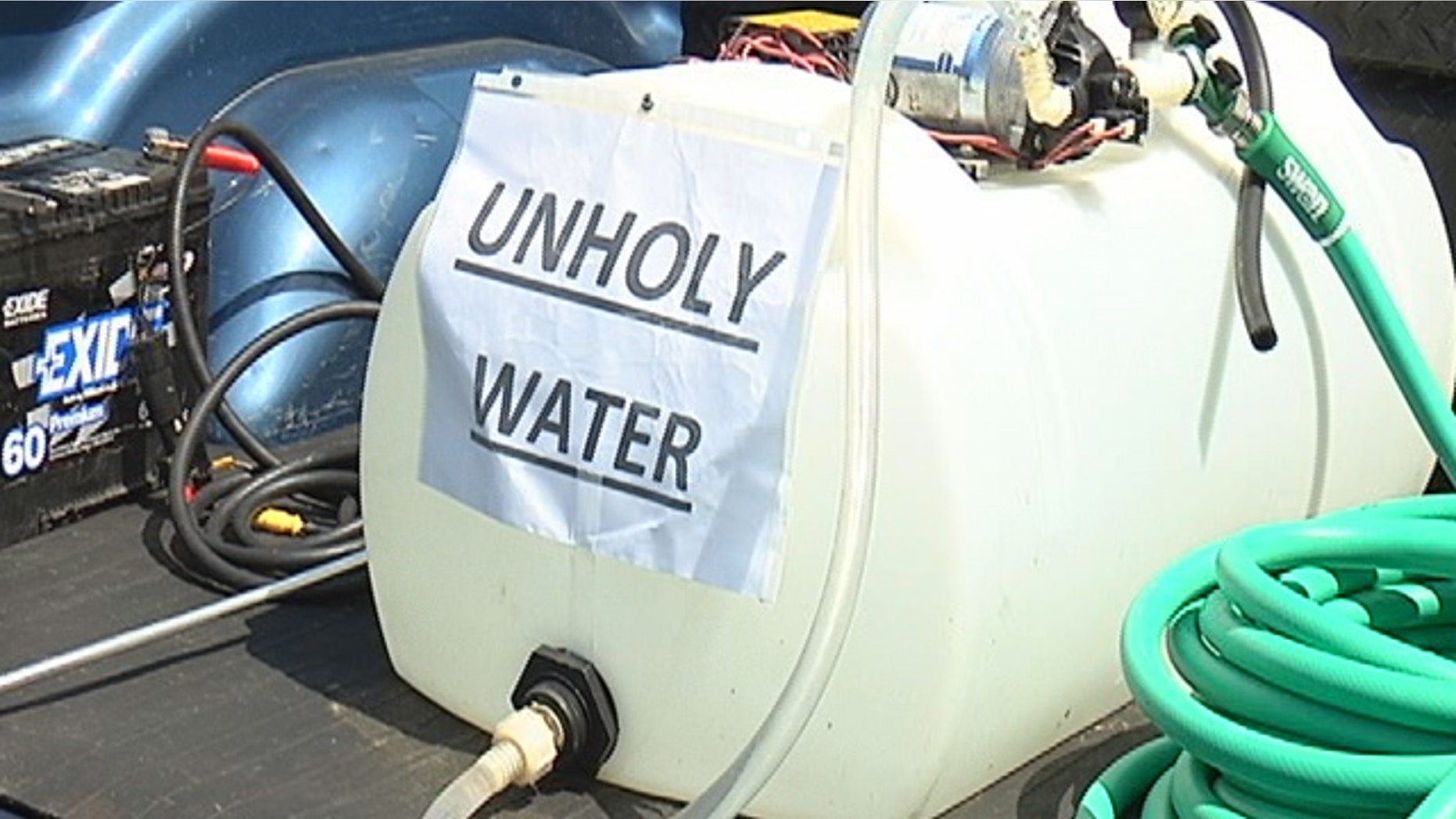 An associate pastor at a Florida church is questioning the washing away of a blessing placed upon a local highway by a religious group, saying the organization is "desperate for a little attention" for its cause.
Glen Copple, an associate pastor at Northside Christian Church in Lakeland, said Saturday's symbolic cleanup of holy oil by the Humanists of Florida was a "ludicrous" event that solely sought publicity.
"I find it absolutely ludicrous that the atheists who say they don't believe in God have to erase something that they don't believe in," Copple told FoxNews.com. "They were just desperate for a little attention for their cause. Only two of them showed up, it wasn't a big gathering."
Armed with brooms, mops and "unholy water," atheists with the Humanists of Florida gathered on Saturday to symbolically remove holy oil that Polk Under Prayer put down on Highway 98 near the Pasco-Polk county line last year, Bay News 9 reported.
Richard Geringswald, pastor at Northside Christian Church and director of Polk Under Prayer, could not be reached by FoxNews.com for comment.
"We come in peace," Humanists of Florida director Mark Palmer announced before he and members of other atheist organizations launched their cleanup, according to a report by Bay News 9. "Now that's normally what aliens say when they visit a new planet, but we're not aliens, we're atheists!"
Palmer reportedly said Polk Under Prayer's blessing "sends a very bad signal to everyone in Polk County, and [anyone] who travels through Polk County who doesn't happen to be Christian."
The unblessing project, he explained, was "not about atheist rights," but about "welcoming everybody into Polk County."
Copple, meanwhile, said he found Palmer's statements to be "odd," but added he would be welcome to having a dialogue with the group.
"Personally, I don't oppose atheists, I just believe they're misguided," he said. "We look at a lot of the cultural issues and problems of our world today and strongly believe it's because we got away from following Christ."
Copple said Polk Under Prayer, a loose-knit group of Christian parishioners in Florida's Polk County, has no plans to hold an event in response at this time.
"There's not a knee-jerk reaction because we believe God is the solution to this problem," Copple said.
Bill Donohue, president of the Catholic League, said the Humanists of Florida "acted in the grand tradition" of atheist groups by going negative.
"Having no positive statement to make, it wants to obliterate speech it disagrees with," Donohue wrote in a statement to FoxNews.com. "While the atheists are within their legal rights to attack the Christian message, it shows once again their proclivity to intolerance. Bullying is what defines them."