Fence rises along border town, but skeptical residents say manpower keeps them safe
SUNLAND PARK, New Mexico – Residents of this dusty hamlet are skeptical that an ongoing effort to replace 1.4 miles of chain link fencing with an imposing steel curtain -- much less the the ambitious border wall Donald Trump has vowed to build -- will stem the tide of illegal immigrants they find under their trailers, in their backyards or wandering through town.
The U.S. Army Corps of Engineers is replacing the stretch of 20-year-old fencing with an 18-foot-high steel wall that extends another 6 feet underground into a bed of concrete. The project also includes elevating the roadbed that runs alongside the wall, to improve the effectiveness of vehicle-borne Border Patrol agents.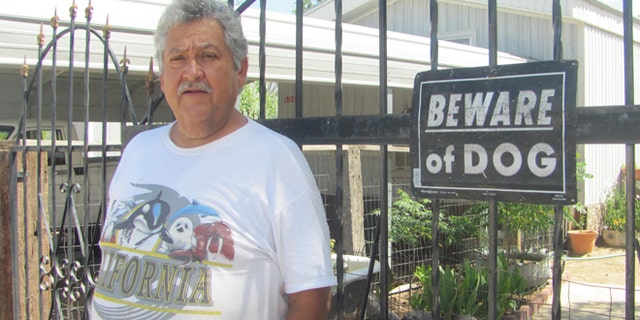 It's a short span, but it provides a glimpse at the scope – and cost – of what may be coming along the 2,000-mile border, especially if Trump is elected in November.
"There are no other fence projects of comparable size," said Border Patrol spokesman Doug Mosier.
Sunland Park is like many other small communities abutting the border fence that sporadically stretches 702 miles through parts of California, Arizona, New Mexico and Texas. It sits at the western base of Mount Cristo Rey, with the iconic statue of the crucified Christ at its summit, 10 miles northwest of El Paso. One long-time resident estimates that of the 15,000 or so residents, a third are in the U.S. illegally.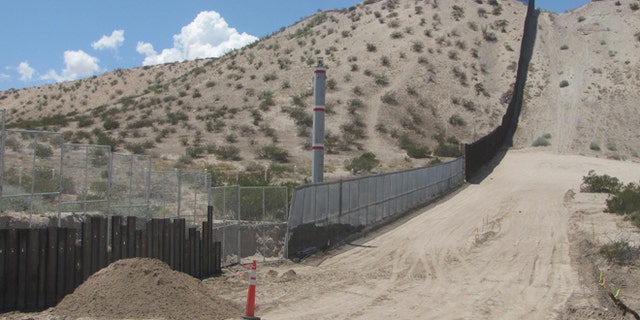 Across the border lies Anapra, a violent suburb of Ciudad Juarez. And while officials say crossings into Sunland Park have decreased while the fence project is under way, they still occur fairly regularly, officials said.
"Despite significant decreases in illegal traffic, this area continues to be exploited by alien and narcotics smugglers due to the inadequate infrastructure in the area that lends an advantage to the smugglers," Border Patrol Agent Jose Romero told FoxNews.com.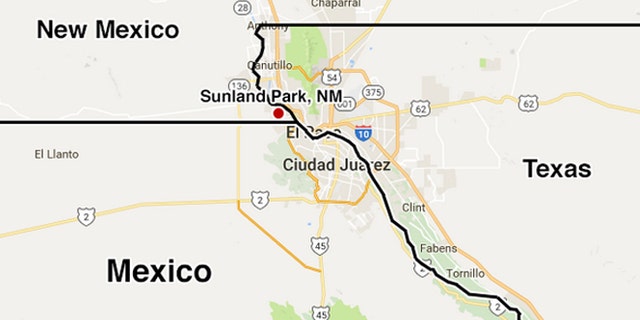 Jesus and Jessica Castro live in a double-wide mobile home a quarter mile from the fence. They believe even the fortified fence will be more of a hindrance than a deterrent to illegal cross-border movement.
"We see them running through the village confused, not knowing where they are or where to go," Jessica Castro said as she watched their young daughter play in the dirt yard while her husband waxed their car. "The fence really doesn't make a difference."
Armando Martinez said he has encountered illegal immigrants on his fenced-in property several times.
"I've had them try to hide under my trailer when Border Patrol is looking for them, but my five small dogs start barking and scare them off," Martinez told FoxNews.com. "I've also had a young man of around 20 saying he was from Mexico City hide behind my truck once."
Even with the new and improved fence, "they're always going to find a way over," he said.
Another section of the border fence that was recently rebuilt was a stretch west of the San Luis Port of Entry in Arizona, a project completed in February 2016. Both projects replaced fencing that predated the federal Secure Fence Act of 2006, and did not extend the border barrier from the 702 miles it currently covers.
The 2006 law leaves flexibility to the Department of Homeland Security to determine how much the fence should extend above and below the ground. A 2008 bill that called for all new fence construction to be two layered, 14-foot high fencing along the southwest border was never passed.
It has been three years since any major additions have been made to the border fence, and Border Patrol officials said no additional projects are being planned. They are currently conducting repair and maintenance projects on 354 miles of previously installed fence.
As long as the fence doesn't cover the entire border, there will always be a way around, if not over, say residents. In Sunland Park, they point to Mount Cristo Rey's rugged valleys of sharp rocks, cactus, and scrub brush and the area at the base of the mountain where the fence stops as typical access points for border crossers.
The real deterrent, they say, is manpower. The Border Patrol is as ubiquitous to the village as tumbleweeds, with vehicles strategically positioned on mesas that offer a clear view of the area to ground-level operations where foot traffic is prevalent. Cameras and motion sensors help focus the agents on trouble spots.
Pancho Rodriguez lives in a single-wide trailer and when he talks about the security of the village he points to a nearby mesa where a green and white Border Patrol SUV sits vigil.
"That's why I feel safe," Pancho Rodriguez told FoxNews.com as he pointed from outside his trailer to a Border Patrol SUV sitting on a mesa overlooking the village. "They are always here."
Mosier said the construction is in no way tied to the ongoing presidential campaign. But if the election leads the winner to make a major commitment to the border fence, it will be costly for U.S. taxpayers or, as Republican presidential nominee Donald Trump likes to say, Mexico.
If the cost of upgrading the fence near Sunland Park is representative, it would cost about $6 billion to similarly rebuild the existing fence to the same heavier-duty specifications. That would leave another nearly fenceless 1,300 miles to address.
Much of the current fence cost far less, with some designed to keep vehicles from crossing and others aimed at stopping foot traffic. According to a GAO report in 2009, the cost of pedestrian fencing ranged from $400,000 to $15 million per mile with an average of $3.9 million a mile.
If Sunland Park's new fence is an indicator, the cost is only rising.