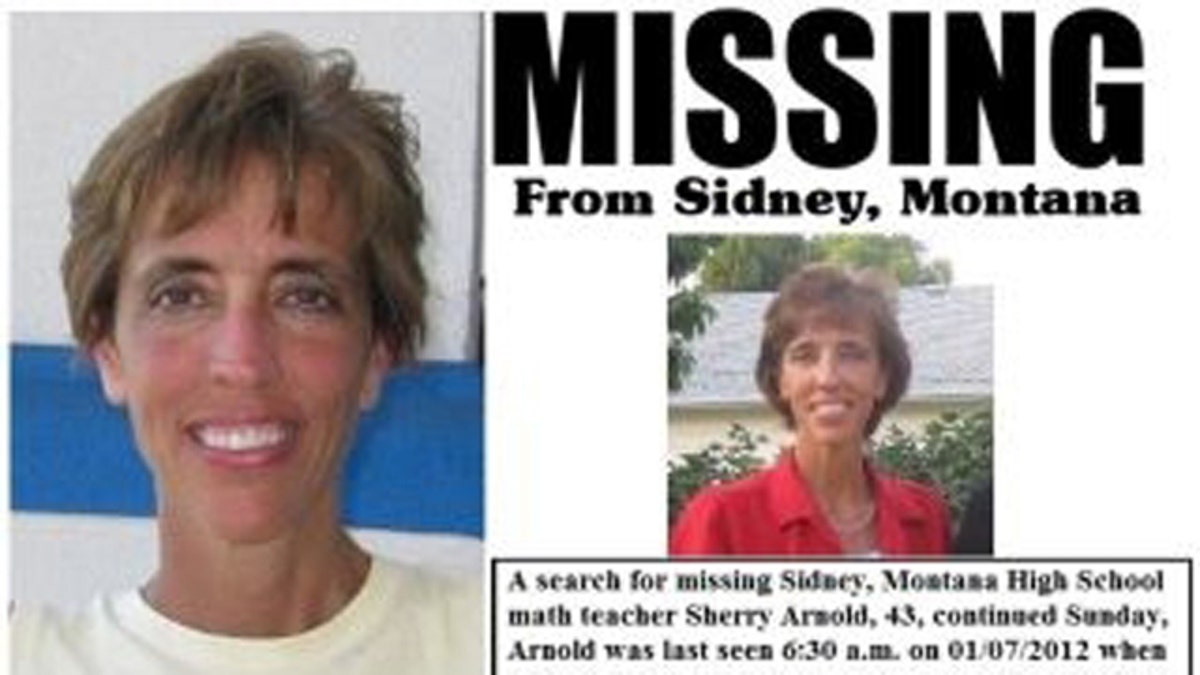 Authorities renewed calls Monday for landowners near the northern North Dakota-Montana border to look for signs of a missing Montana teacher's buried body, while documents revealed one of the two suspects in her disappearance has spent time in prison.
At a news conference Monday, authorities asked that "landowners and landowners only" help look for the body of 43-year-old Sherry Arnold, a math teacher from Sidney, Mont., who has been missing since Jan. 7 and is presumed dead.
"We don't want the public out there running around in the countryside," Williston Police Chief Jim Lokken said. "The landowners know their land and their property. If they see anything that has been disturbed, we want them to check it out."
Authorities said little of the two men believed to be involved in Arnold's disappearance: 47-year-old Lester Vann Waters Jr. and 22-year-old Michael Keith Spell, both of Parachute, Colo.
Waters was arrested in Williston, and Spell was arrested in Rapid, City, S.D., The Billings Gazette reported.
The two are being held on aggravated kidnapping charges in the Williams County jail pending extradition to Montana, the newspaper reported.
Prison records in Florida show Waters has a criminal history in that state and has served prison time. Florida records show Waters has felony convictions for driving without a valid license and leaving the scene of an injury crash. He also served time for a weapons offense, and records show he has used numerous aliases.
Waters was released from a minimum-security corrections facility in August 2010, after serving about 18 months. He also was incarcerated between September 2002 and December 2003, and again between August 2007 and March 2008.
Court records show Spell was arrested in Colorado in May 2007 on state charges of drug possession, contributing to the delinquency of a minor and sexual contact without consent -- but the charges were dropped five months later. The records do not say why the charges were dismissed.
Spell also faced charges of careless driving and driving without a license in 2007, but that case also was dropped.
Investigators offered few new details on the investigation Monday, a day after the FBI issued a statement suggesting Arnold's body might be buried in a shelter belt, or line of trees that protects farmland from the region's strong winds.
The agency put out a call to property owners in far northeastern Montana and in the North Dakota counties of Williams, McKenzie, Mountrail and in southern Divide County. It asked that they check vacant farmsteads for signs of disturbed soil or matted grass, especially in areas with lines of mature or rotted trees that serve as windbreaks.
Landowners who discover something unusual should not disturb the area, but call authorities, the FBI said.
Williams County Sheriff Scott Busching said the two suspects have made court appearances or are in the process. However, the closure of court offices for the weekend and the holiday Monday have confounded efforts to track legal documents filed in their cases. Busching said it's up to prosecutors to determine whether charges will be filed at the state or federal level.
"A lot of this will come out of the prosecution phase," Busching said. "We want to get Mrs. Arnold back to her family. We are not going to put anything out there that will even remotely hinder those efforts."
The Williams County Correctional Facility is about 46 miles from Sidney, where officials say Arnold disappeared while on an early-morning run along a truck route on the edge of the oil boom town of more than 5,500 residents.
Sidney school officials posted a statement online Friday saying they learned of Arnold's death that day. The statement provided no details.
In the days after Arnold disappeared, hundreds of residents, police, firefighters and others combed the town and surrounding countryside without success. The only clue that has been publicly released was that one of Arnold's shoes was found along her running route.
Arnold and her husband, Gary Arnold, have five children combined from prior marriages. Two live at home and attend the same school system where Sherry Arnold worked for the past 18 years.