Father, son graduate from William Paterson University together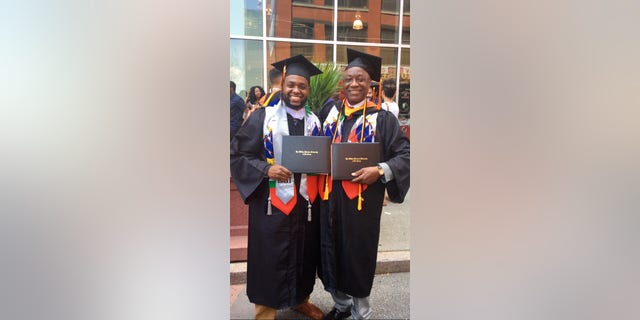 A father and a son graduated from a New Jersey university on Friday, becoming the first members of their family to earn college degrees.
"It was amazing," Benjamin Jeanty told Fox News on Friday, just hours after he and his dad, Duvinson, moved their tassels from right to left at their graduation ceremony at William Paterson University.
"Never in a million years did I ever dream of going to school with my father," Jeanty added.
Jeanty, 27, said he was a senior in high school when his father, a Haitian immigrant, decided to go to college, who was 53 years old at the time.
"He gave us the example that we should always look to better ourselves," Jeanty said.
Duvinson Jeanty, who is now 63, came to the United States in the mid-1980s and worked as a bus driver for the N.J. Transit for 27 years. He retired in 2015.
The younger Jeanty began classes at Rutgers University in 2008, but left a year later to work full-time at Smashburger. Three years later, he was itching to do something new, taking a cue from his father's advice.
"I starting making good money, and making money is cool, but how am I serving the community? How am I helping others?" he said.
NORTH TEXAS TRIPLETS GRADUATE AT TOP OF THEIR HIGH SCHOOL CLASS
Jeanty went back to college and enrolled part-time while working at a special needs school. Meanwhile, his father continued to take classes at William Paterson University while working as a N.J. Transit bus driver. Jeanty transferred to the university last year.
"I thought I was going to finish before him becuase I thought I knew it all back then," Jeanty said.
On Friday morning, they both got their diplomas — Ben in psychology and Duvinson in finance.
"Graduation was unbelievable. This morning I was getting so emotional getting ready and listening to my favorite song," Jeanty recalled.
Jeanty said he will be working full-time at the special needs school after graduation. His father, who is also looking to get his masters in finance, will be running his real estate company he started.