Father of drowned bride testifies in Alabama trial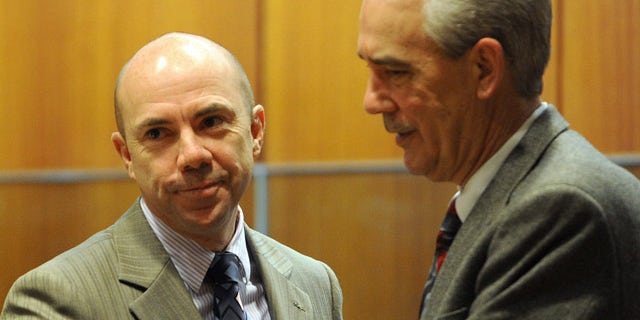 A man whose daughter drowned during her Australian honeymoon eight years ago fought back tears Thursday as he testified how the family's grief and shock over her death turned to suspicion of the woman's husband.
Tommy Thomas repeatedly choked back his emotions as he described the family's quest for answers after Tina Thomas Watson, 26, died while scuba diving with her husband of 11 days, Gabe Watson, on a shipwreck on the Great Barrier Reef. Watson is charged with capital murder in her death and faces life without parole if convicted, but the defense contends her death was accidental.
Shortly after the death, Thomas said, his wife, Cindy, was worried about Watson's condition.
However, evidence showed relations between Watson, 34, and his wife's family frayed quickly as the Thomases began having doubts about what happened and Gabe Watson began asking for Tina Watson's belongings.
Gabe Watson's father called to tell them about the woman's death more than 15 hours after she drowned, Thomas said, and Tina Watson's family never heard from Gabe Watson until they attempted to contact him through the U.S. consulate in Australia.
Thomas said that in a phone call from Australia, Watson claimed his wife gave him a thumbs up underwater, indicating she wanted to go back to the surface. Watson said he was leading her back to a rope when she panicked, knocked off his mask and air hose, and began sinking, according to Thomas.
FLASHBACK: Witness in honeymoon murder trial testifies that diving firm did not prep bride for scuba outing
But during a later talk at a lawyer's office, Thomas said, Watson changed his story and said the woman indicated she wanted to go back to the rope leading to the top rather than go directly to the surface. Staring directly at Watson from the witness stand, Thomas said he asked his former son-in-law at that time: "When Tina gave him the thumbs up sign to go to the surface, why didn't he just take her to the surface?"
Watson, seated at the defense table, didn't have any visible response. Prosecutor Don Valeska asked Thomas whether he questioned Watson any further.
"I didn't need to," Thomas said coldly.
By that time, Gabe Watson already had asked repeatedly for his wife's personal belongings from the Thomas family, Thomas said. They later delivered everything to him, including Tina Watson's beloved collectibles from the movie "Gone With the Wind."
Thomas said he traveled twice to Australia to investigate his daughter's death, and previous testimony showed questions raised by the family helped prod Australian police to further investigate a death they initially considered accidental.
Evidence showed the families are now in court fighting over the woman's estate. During cross-examination, defense lawyer Brett Bloomston showed Thomas a document that estimated the value of the woman's estate at $3,000 with $24,000 listed in liabilities at the time of her death.
A judge earlier blocked some of Thomas' testimony. Prosecutors had hoped Thomas could tell jurors about statements that Gabe Watson allegedly made about wanting to increase life insurance for Tina Watson, but Circuit Judge Tommy Nail ruled the evidence isn't admissible.
The testimony was important to the state because prosecutors claim Watson killed his wife hoping to collect on life insurance. Thomas, not Watson, collected the $33,000 in benefits, the defense showed.
Gabe Watson previously pleaded guilty to a manslaughter charge in Australia in Tina Watson's death and served 18 months in prison there. Bloomston asked Thomas about a court ruling from Australia that said Gabe Watson "did nothing intentional to cause Tina Watson's death" and was "wrongfully accused of murder in the public eye" there, but prosecution objections blocked an answer.