Family of 4 children, 2 adults die in Pennsylvania house fire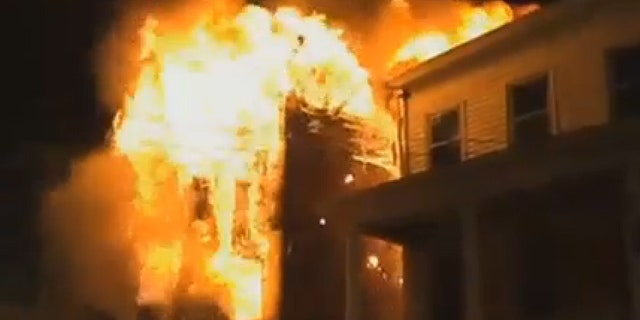 POTTSVILLE, Pa. – Fire tore through a family's eastern Pennsylvania home on Mother's Day, authorities said, killing four young children, their father and another relative while their mother was across the street doing laundry at a friend's house.
The blaze broke out around 11:55 p.m. Sunday at the single-family home in Pottsville. Firefighters later found all of the bodies on the third floor of the building, which sits on a steep hillside not far from the D.G. Yuengling & Son brewery in Pennsylvania's coal country, about 90 miles northwest of Philadelphia.
The fire was declared under control shortly before 1 a.m. A fire marshal was sifting through the debris later Monday morning and authorities were searching for the cause.
The Schuylkill County Coroner's office identified the victims as the father, Eric Brown, 30; and his children, Elijah Brown, 2; Emily Brown, 3; Jeremiah Brown, 7; and Joy Brown, 8. Another adult, Kristina Thomas, 26, also died in the fire. She's the sister of 28-year-old Kelly Brown, the mother who survived.
Kelly Brown had been doing laundry at a neighbor's house nearby at the time of the blaze because her washing machine was broken, according to the neighbor, Jennifer Purcell. Purcell said they had smelled smoke and gone outside, when she saw the flames and said, "Oh my God, your house is on fire."
They both ran up the street to the house, but weren't able to get inside, Purcell said.
Kelly Brown started screaming to emergency personnel keeping her back, "What do you mean I can't go in? My kids are in there, my husband is in there, my sister is in there. I've got to get them," according to Purcell. Brown got weak after that and had to be walked down the street because she couldn't stand, Purcell said.
Kelly Brown is now staying at her parent's house elsewhere in Pottsville, Purcell said, adding that they later spoke on the phone and her friend was devastated.
"She's a wreck," Purcell said. "Not only did she lose, as she said, her best friend, her husband, her kids, but it also happened on Mother's Day."
Neighbors said they heard screams for help, but the flames were too intense by the time they got to the house to try to rescue the family.
Jeff Kuhlwind, 50, who lives across the street, said he was on his computer in the front of his house when he heard screaming, "Help! Help me!"
He said he called 911, ran outside and saw "massive flames" shooting from a second-floor window. He saw a woman toward the house screaming for help, saying that a man and kids were still inside.
The woman turned around as if to go back inside, but Kuhlwind said he ordered her to stay out. He and several other neighbors ran up to the front of the house and he was about to go inside when he saw flames shooting outside the front window and was forced away.
"Nobody was getting in, there wasn't no way," he said. "It went quick, really, really quick."
The upper two floors of the three-story home were charred and the rear of the building appeared to have sustained heavy damage, with several of the walls knocked out. Furniture and other debris sat on the front lawn.
Crews from all the city's fire companies responded to the blaze and Pottsville fire Chief Todd March said crews had to proceed carefully through the building because of the extensive amount of damage.