Faithful Houston Astros fans flocking to buy team-themed rosary beads
NEWYou can now listen to Fox News articles!
HOUSTON – Pope Francis has one. It was hand delivered to the pontiff at the Vatican in February. Miss Texas 2018, Logan Lester, reportedly sports one as well. And Astros owner Jim Crane purchased a few for his friends.
It's become the must-have item in Texas, and it all began as an effort by a small Catholic church in Houston to encourage people to pray.
Rosary beads handmade by parishioners of the Church of Annunciation have become newest sensation in the Lone Star State. Lines form across from the Minute Maid Park, where the Houston Astros play, filled with people hoping to buy $15 to $80 rosary beads sporting the Astros team colors.
The beads are sold two hours before every home game outside of the church, which is across the street from the stadium.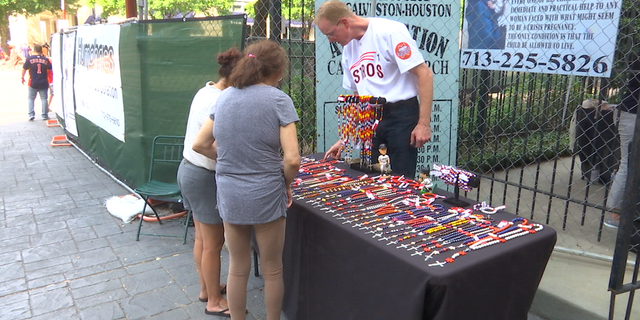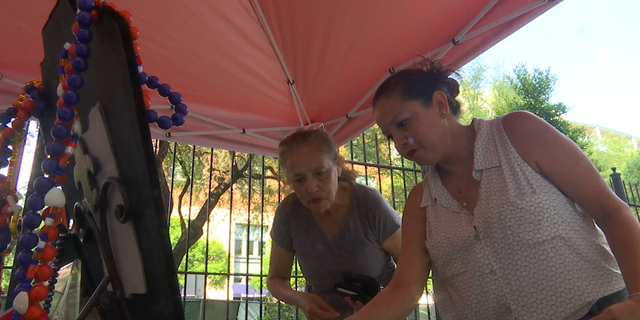 "We never imagined it would be as popular as it is," the Rev. Paul Felix, pastor of the Church of the Annunciation, told Fox News.
Church officials said they have sold more than 3,000 Astros rosaries since they began selling them last June. The beads are only available on the day of the games, before the first pitch is thrown.
And they have become so popular, a few people have requested to be buried with the rosary, and one person who was sick requested it as well, according to the church.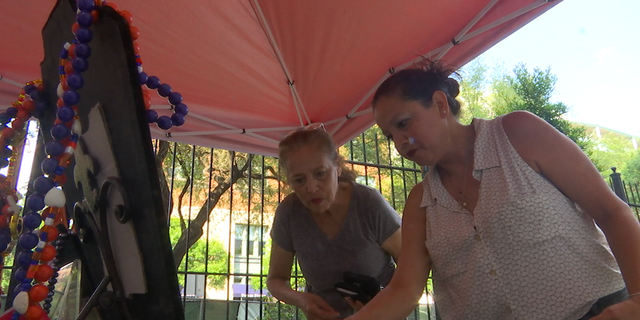 "We don't believe our mission is within the four walls of this church. Our mission is also to outreach and engage people," Felix said.
It was an idea that started small but suddenly took off.
"I wanted to get [the rosaries] before they sold out," fan Mallory Evans said recently. "Anything you can do to raise money and awareness for the Catholic Church is well appreciated…It's very meaningful, and the rosaries are just so special."
At a recent game, there was a constant flow of people trying to buy the rosary beads. During the game, some fans wear them around the neck, while most keep them in their pockets – as a spiritual gesture or just for good luck.
Felix said whenever the rosary beads have sold out, the Astros have won.
But he does not take credit for the baseball team winning the World Series last year. He said that was a fortunate coincidence.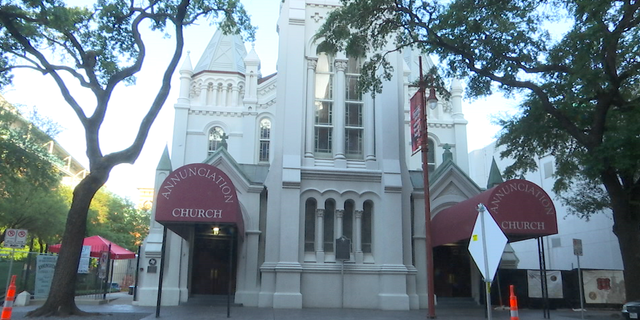 "Of course, they won the World Series, so we're grateful for that," he said. "Those are prayer's answers, one might say."
Some say they love how it's attracting fans who are not even members of the Catholic Church.
"It's wonderful. And, I just love the fact that even people who aren't Catholics are buying rosaries. If they ever want to pray the rosary, great. If they don't, that's alright, "said parishioner Peter Goedick.
There is an added benefit to the sales. The money raised will be used to help repair and renovate the 149-year-old structure, which is Houston's oldest existing church.
"This is out of necessity," Felix said. "We've been working on correcting foundation problems, termite issues, and other issues, roof problems, and all kinds of things."
The initial phase of construction is expected to cost over $4 million. Felix said they are aiming to build a parish hall with additional facility classrooms and office space. A second expansion phase is estimated to cost an additional $6 million.
Felix said the rosary sales have helped them raise tens of thousands of dollars.
"I'm not sure [the sales] will raise the money for everything. But, in terms of relationships, it's an entrée to relationships and so forth, and one thing leads to the next," Felix said. "That's a very beautiful thing."