Ex-Los Angeles County Sheriff Lee Baca sentenced for impeding FBI investigation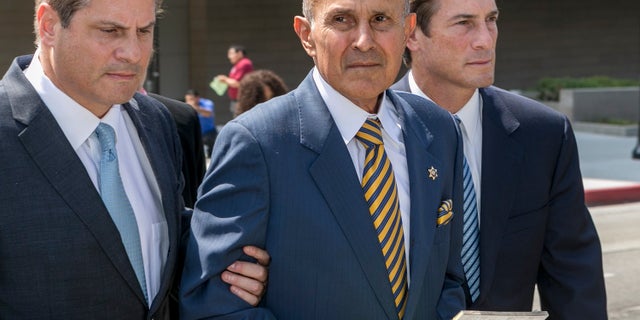 Former Los Angeles County Sheriff Lee Baca was sentenced to three years in prison Friday for disrupting an FBI probe that was investigating abuses at the jails he oversaw.
Baca, 74, was sentenced after he was convicted in March of obstructing justice, lying to federal authorities and conspiring to obstruct justice.
Baca was ordered to turn himself in on July 25 to begin serving his sentence.
LAS VEGAS DOCTOR ACCUSED OF HAVING SEX WITH DRUGGED PATIENTS STANDS TRIAL
Baca, who was diagnosed with Alzheimer's disease last year, advanced his position from guarding inmates to running the nation's largest jail system and biggest sheriff's department.
U.S. District Court Judge Percy Anderson said he would have sentenced Baca to five years in prison if it were not for his years of service and the Alzheimer's diagnosis.
"As awful as Alzheimer's disease is, it's not a criminal penalty," Anderson said. "Alzheimer's disease is not a get-out-of-jail card."
Defense attorney Nathan Hochman urged the judge to spare Baca of any prison time because his Alzheimer's disease will get worse over time and he would not receive the proper medical care needed in jail, the Los Angeles Times reported.
Hochman also argued that Baca's more than 48-year law enforcement career shouldn't be tainted by the former sheriff's misdeeds over a six week period in 2011 and four false answers to 400 questions during a voluntary interview with authorities in 2013.
TEXAS MAN SENTENCED FOR KILLING HIS PROBATION-OFFICER-TURNED-GIRLFRIEND
FBI agents started a probe into Los Angeles County's Men's Central Jail in 2010 over reports of mismanagement, and regular abuse of inmates and that deputies had covered up, often times without the supervisors knowing, according to the LA Times.
Baca instantly resigned in 2014 as the probe netted several lower-ranking people who plotted to hide an inmate informant from his FBI handler when they learned the jails were being investigated.
20 members of the department have been convicted for their involvement in the crimes.
When he was a sheriff, Baca traveled around the world often to speak about his approach to law enforcement, denied any involvement in the scandal, but admitted he had fallen out of touch with what was going on in his department.
PHILADELPHIA TOP PROSECUTOR SET FOR BRIBERY TRIAL JUNE 19
Baca's reputation as a respected law enforcement official who promoted progressive ideas such as education and rehabilitation were tarnished from the crimes.
Originally Baca plead guilty to a single count of lying to federal investigators in a deal that would have required no more than six months in prison. But that deal fell apart when Judge Anderson said it was too lenient.
Prosecutors then hit him with the two additional obstruction counts. At Baca's first trial, a jury deadlocked 11-1 for acquittal and a mistrial was declared. He was convicted three months later by a different jury at his second trial.
More than 200 friends and supporters, including former Mexican President Vicente Fox and former California Gov. Arnold Schwarzenegger, wrote letters of support to the court on behalf of Baca.
Hochman plans to appeal, challenging several of Anderson's rulings that he said were improper and showed bias toward Baca, including a decision not to allow medical experts to testify whether Baca's medical condition impaired his memory when he lied to federal authorities.
The Associated Press contributed to this report.