Evil trolls torment parents of California girl who killed herself because of bullying
After losing their teen daughter to suicide due to years of bullying, Freddie and Charlene Avila are now being tormented by Internet trolls dishing out the same vitriol that caused 13-year-old Rosalie to take her life.
Rosalie Avila, of Yucaipa, Calif., hanged herself last Tuesday, leaving behind a note to her parents apologizing for the "pain she knew her death would cause them," NBC News reported.
"'Sorry, Mom and Dad. I love you.' And it said, 'Sorry, Mom, you're gonna find me like this,'" the note read, according to Freddie.
Rosalie was taken off life support Monday after being declared brain dead Friday. Her parents said they would donate her organs.
The Avilas said their daughter was bullied for years — and now they're being targeted, too.
EXPLOSIVE WILDFIRES IN SOUTHERN CALIFORNIA FORCE THOUSANDS TO EVACUATE
In one case, the Avilas received a meme on social media. "Hey mom, next time don't tuck me in this," read text near a photo of Rosalie's face next to a bed. Below that was the text "Tuck me in THIS" next to a picture of a person gesturing to a freshly dug grave. Rosalie's face was photoshopped on to the gesturing person, CBS Los Angeles reported.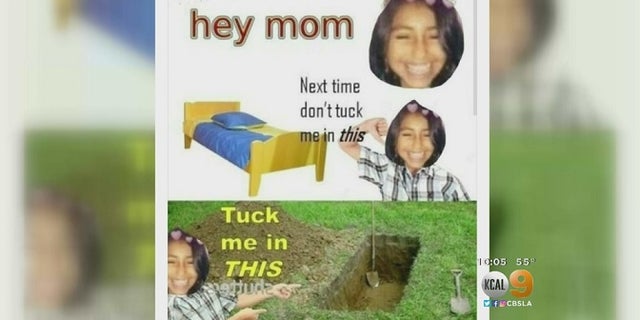 "It's so heartless, so mean to do that. And it's not funny, it's not funny to see that image of your daughter and to be mocked like she's crap, and she's not. That's my daughter," Charlene told FOX11.
The Avilas told FOX11 they went to their daughter's middle school, Mesa View Middle School, regarding the bullying their daughter endured and felt not enough was done to prevent it.
"Right now, the bullies are still there. They were suspended for a couple days and then they come back and bully someone else," Freddie Avila told FOX11.
Charlene added: "The things that they post on social media about my daughter are unacceptable. The people that liked it and fed into it. It's painful and it makes me angry to know that they have no heart."
The Yucaipa-Calimesa joint unified school district did not immediately respond to Fox News' request for comment.
After Rosalie died, her parents found her diary, which chronicled her thoughts and the times she was bullied at school.
"They told me I was ugly today," the diary read. "They were making fun of me today about my teeth."
The couple turned the diary over to police.
CALIFORNIA 18-YEAR-OLD CONFESSES TO MOLESTING DOZENS OF CHILDREN
The Avilas told NBC News they put Rosalie in counseling after they discovered she had become reclusive and was cutting herself. Rosalie's parents said they were not aware of how serious the bullying was until her death.
Rosalie's friends showed the parents a video posted to social media capturing the teenager sitting alone as classmates teased her, NBC News reported.
"Rose just kept this to herself," Freddy said. "On the inside, it was just tearing her to pieces that they were always making fun of her."
The couple said Rosalie's five siblings "were traumatized and can't stand to be home because their last memory of Rosalie is of her after she hanged herself in her room."
"We are an emotional wreck," Charlene said.