Environmentally-friendly Canadian gov't could face $475M payout for blocking US wind energy company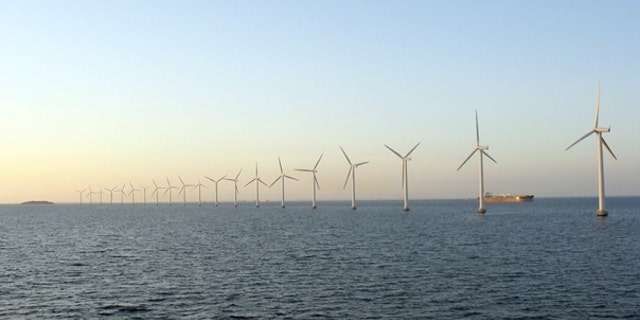 Blame Canada.
A U.S.-based company that accused the Canadian government of using phony environmental concerns to keep wind turbines off the Great Lakes could be close to a ruling in its $568 million suit.
A panel of international law experts could rule any day now on whether Ontario's open-ended "temporary ban" violated the North American Free Trade Agreement, as alleged by Windstream Energy.
In creating the moratorium, Ontario said it needed more time to study the environmental impact of the turbines, but documents obtained by Windstream seem to show the real reason was aesthetic, not environmental.
Indiana-based Windstream's 100-turbine offshore windfarm near Kingston on Lake Ontario was key to a deal the company had struck with Ontario's power authority. The company claims a $6 million security deposit was illegally seized and all its investments in the project rendered a loss.
Windstream's attorneys argue that under NAFTA, investments by U.S. companies in Canada cannot be arbitrarily scuttled. A decision is due imminently from a three-member panel convened by the Netherlands-based Permanent Court of Arbitration and consisting of international law experts from Finland, Spain and the United States.
The suit is in addition to another $500 million claim brought by a Canadian wind energy company, Trillium, that also had its deals nixed due to the ban that was put in place five years ago.
But Windstream might have a stronger case, as it has obtained evidence including excerpts from hundreds of emails sent between government officials.
One example is from spring 2010, a year before the moratorium, when the Canadian government considered establishing an "exclusion zone" that would have forced all windmills to be built five kilometers inland, making them unable to harness wind coming off the lake, according to Canada.com.
"We are to work backwards from the number to provide a rationale for it," reads one email the Ministry of Natural Resources Director Eric Boysen sent to a staffer. "This can't be about aesthetics, or there will be a similar cry for exclusion zones on land."
In a separate message, Boysen admits that the exclusion zone might not really be up to snuff.
"The real challenge now begins," he wrote. "Although we have messaged to (the Ministry of the Environment) that there is nothing in our data to support an exclusion zone, they continue to want to base this on ecological reasons."
Although it long predates his election, a large judgement for blocking a sustainable energy project could be embarrassing for the new Canadian administration of Prime Minister Justin Trudeau, a committed environmentalist.