Embattled Los Angeles County sheriff to retire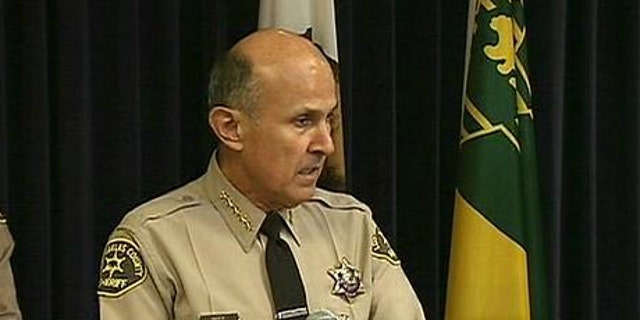 NEWYou can now listen to Fox News articles!
Embattled Los Angeles Couty Sheriff Lee Baca says he will not seek re-election to a fifth term and will retire at the end of the month.
Baca's announcement comes one month after 18 deputies were arrested as part of a federal investigation into allegations of civil rights abuses and corruption in the county's jail system.
In an emotional statement outside sheriff's headquarters Tuesday, the 71-year-old said the major reason was what he termed the negative perception the upcoming campaign would have on his department.
The department is the largest sheriff's department, and fourth-largest local police agency, in the country, behind only the police departments of New York City, Chicago, and Los Angeles. Baca oversaw a department of 9,000 sworn deputies. Baca has served as Sheriff since 1998.
The FBI has been investigating allegations of excessive force and other misconduct at the county's jails since at least 2011. Four of the grand jury indictments and a criminal complaint unsealed last month allege unjustified beatings of jail inmates and visitors at downtown Los Angeles jail facilities, unjustified detentions and a conspiracy to obstruct a federal investigation into misconduct at the Men's Central Jail.
Another indictment unsealed in November named seven deputies, including two lieutenants charged with conspiracy and obstruction of justice.
All seven are accused of trying to prevent the FBI from contacting or interviewing an inmate who was helping federal agents in a corruption and civil rights probe. One of the investigations involved trying to see if a deputy would accept a bribe to provide the inmate with a cell phone, according to court documents.
The indictment alleges the inmate was moved to hide him and false entries were made in the sheriff's databases to make it appear as if he had been released.
In an attempt to find out more information about the investigation, one lieutenant and the two sergeants sought a court order to compel the FBI to provide documents, prosecutors said. When a state judge denied the proposed order, the two sergeants allegedly attempted to intimidate one of the lead FBI agents outside her house and falsely told her they were going to seek a warrant for her arrest, the indictment said.
The American Civil Liberties Union sued the Sheriff's Department in 2012 claiming Baca and his top commanders had condoned violence against inmates. The organization released a report documenting more than 70 cases of misconduct by deputies.
At the time of the indictments, Baca objected to the notion that the alleged behavior alleged was institutionalized, saying that the actions of the deputies and other higher-ups charged shouldn't reflect on the entire department, "99.9 percent of whom do their jobs well".
Click for more from MyFoxLA.com
The Associated Press contributed to this report.