Dramatic South Carolina school bus crash caught on camera
Dramatic surveillance video captured the terrifying moment a semitrailer slammed into a South Carolina school bus carrying four special needs students last week.
A Greenville County school bus with four students aboard was traveling down the road just before 3:20 p.m. Tuesday when the driver of a semitrailer lost control and swerved off the road. Tammy Cummings, the school bus driver, told FOXCarolina she spotted the vehicle and braced for the impact.
"The bed of the truck started leaning towards me and I noticed that my aide was behind the seat the way she was supposed to be, the children was in their seats so I knew they were safe in their compartment area," Cummings told the news station about the moment the vehicles collided.
"I just saw the bed of the truck come towards me and I held up my arms to cover my face because I knew that bed was going to hit us," she added.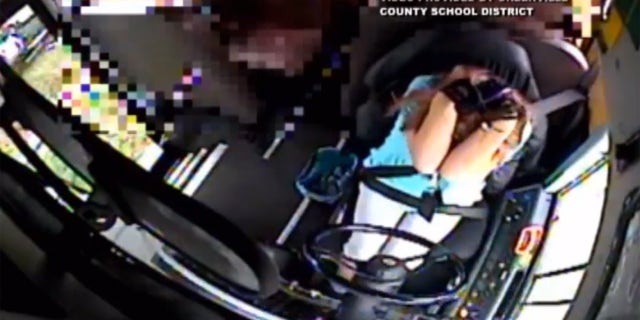 Cummings said she followed training protocol, such as slowing down the bus when she spotted the semitrailer in the distance, to avoid a deadly disaster.
TEEN CRASHES INTO EXAM BUILDING DURING HER DRIVER'S TEST, POLICE SAY
"Part of my special needs training, I am a special needs trainer myself, so that kicked in immediately," the driver told FOXCarolina.
Cummings was seen in the school bus video calming students, who were from Sara Collins Elementary and Washington Center, after the crash.
She said, "When I realized that one of my children was very upset, I started talking to him about his phone he had and he showed me some games he had and he started playing some games and that calmed him down a lot."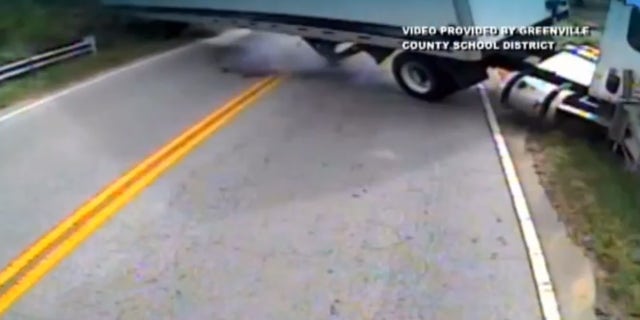 The bus driver recalled how "very thankful" she was that no one was seriously injured in the crash. One child was taken to the hospital as a precaution.
SHOCKING VIDEO SURFACES OF VALERIE THOMPSON'S 343 MPH MOTORCYCLE CRASH
"I really did think it was going to really bad because [the semitrailer] was coming straight as us," Cummings said.
The driver of the semitrailer was injured and taken to the hospital. The vehicle also struck a pole and knocked out power for nearly 1,000 residents in the area.