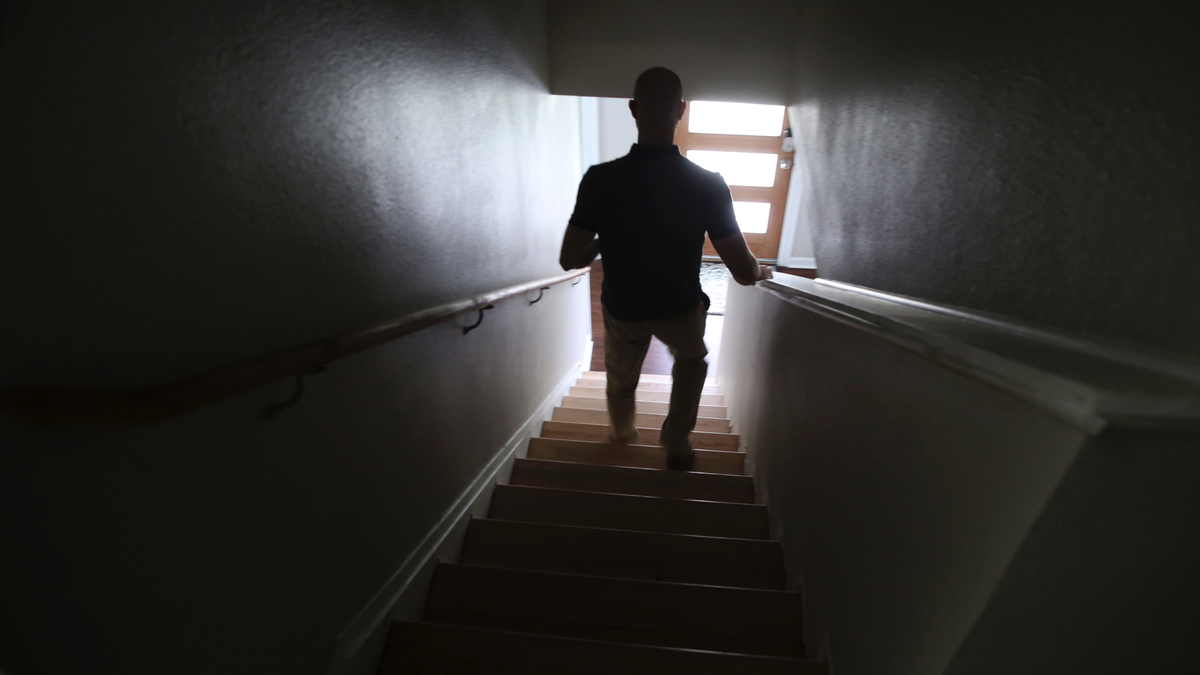 DALLAS – A Texas group has opened what's believed to be only the second shelter in the U.S. exclusively for men who are victims of domestic violence, as advocates say more men are seeking help amid changing views about male victims.
"We're trying to help men understand that it's OK to ask for help. It's OK to have emotions. It's OK to cry. It's OK to be vulnerable," said Paige Flink, CEO of The Family Place in Dallas.
Before opening the 21-bed shelter in a two-story home in May, Flink's organization, like many others, housed male victims in hotels. But Flink said that not only was that becoming costly as the numbers grew, it also wasn't an ideal arrangement for victims to get support.
"They get a lot of growth from being together," Flink said.
The number of male victims calling the National Domestic Abuse Hotline and its youth-focused project — loveisrespect — has been growing. Last year, about 12,000 male victims called — about 9 percent of victims who identified their gender. That's about double the about 5,800 male victim callers from 2010, said hotline spokeswoman Cameka Crawford.
"We believe that there are likely many more men who may not report or seek help for a number of reasons," she said.
Flink said her organization has sheltered men abused by male partners, female partners or relatives. Some men bring their children. Flink believes one reason her group has seen an increase in male victims has to do with how Dallas police in recent years have been handling domestic abuse calls: They ask a series of questions and if someone is believed to be in danger, that person is immediately put on the phone with a shelter.
Some shelters house both men and women, but Denise Hines, a professor at Clark University in Massachusetts who researches domestic violence by women against men, said it's more common for men to be put up in a hotel.
Valley Oasis in Lancaster, California, says it was the first in the U.S. to accept men into its shelter. "It created an environment where maybe for the first time for female victims and male victims that they could actually talk to members of the opposite sex that were not going to hurt them, that were not going to degrade them," said CEO Carol Crabson, who said the shelter houses victims in cottages on its campus.
The first shelter in the U.S. solely for men opened two years ago in Batesville, Arkansas, a town of about 11,000. Patty Duncan, executive director of Family Violence Prevention Inc. , said that when a three-bedroom home was donated to her organization, her thoughts turned to male victims.
"I could just see that they were in the situation, but they didn't have anybody that they thought they could call. In speaking with them, that was what they would tell you as well: 'Where am I going to go? Who's going to believe me? Here I'm a big guy, and who is going to think that I'm telling the truth?' It just got me thinking," Duncan said.
Duncan said that before Taylor House opened, male victims stayed at her group's women's shelter. But staffers, she said, have noticed that those staying at the all-male shelter seem to have more of a "freedom to be upset."
"They don't have to put on a strong kind of 'I'm OK,'" she said, adding, "Their feelings can be hurt. They can be sad. They can be angry and they're not seen as being aggressive. They can talk about how it felt to be physically hit and not feel emasculated."
Hines said some men don't even realize they're being abused until they read pamphlets — mostly geared toward women — listing abuse signs. "If you are the man, that's a very difficult process to figure out," she said.
In the U.S., about 31 percent of men and 37 percent of women have experienced sexual violence, physical violence or stalking by an intimate partner, according to the Centers for Disease Control and Prevention.
A 35-year-old man who spent almost three months at The Family Place's shelter said he went there after feeling threatened by his boyfriend. Because his boyfriend didn't physically hurt him, he said he hadn't necessarily thought of his situation as abuse.
"It just opened up my eyes to realize that this isn't the first time I've been in a situation like this and I just never thought of it being an abusive relationship," said the man, who insisted that his name not be used out of fear for his safety.
"You never really hear about males being victims or even there being a male shelter," he added.
___
Sign up for the AP's weekly newsletter showcasing our best reporting from the Midwest and Texas: http://apne.ws/2u1RMfv