'Diamond in the rough' puppy rescued from death at San Francisco landfill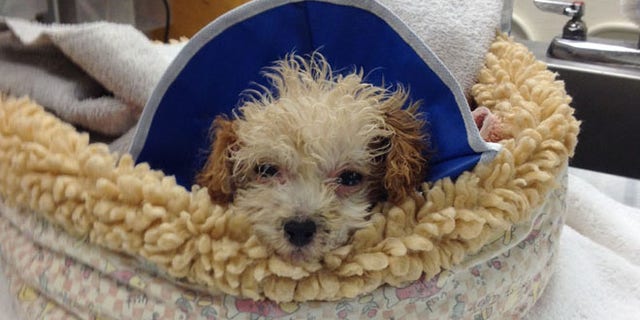 A miracle puppy named "Gem" was recovering at a San Francisco animal center Monday, two days after the tiny 10-month-old pooch was spotted on a recycling conveyor belt -- minutes from death.
The Apricot Poodle mix was found Saturday at the city dump in San Francisco -- severely injured with bite marks on her neck, lameness in her hind legs and discharge from her ears, Fox affiliate KTVU.com reported. Workers discovered the puppy when a trash bag on a conveyor belt began moving by itself, according to the station.
Animal control official Le Ellis Brown said the dog is expected to survive, and added that she has been named Gem "because she's like a diamond in the rough."
"She's a precious little gem that ended up in a trash can," Brown told the station.
Investigators are working with trash collectors to determine what part of the city she may have come from. They believe she was unloaded from a collection truck at the dump and went down a conveyer belt carrying recyclables. They're urging anyone with information to come forward.
"We could tell the puppy was still moving and it was trying to crawl out of the bag itself," Recology material handler Gregory Foster told the station. "Luckily we stopped the line in time before it actually fell off the belt into the pit," which is the final stop before the landfill.
"We pulled the puppy out of the bag and examined it. The puppy was frightened, scared. It was whining," Foster said.
Anyone with information on the case is urgers to contact San Francisco Animal Care and Control at 415-554-9400.
The Associated Press contributed to this report.