Defective boiler in NYC high-rise triggers carbon monoxide leak, dozens reported hurt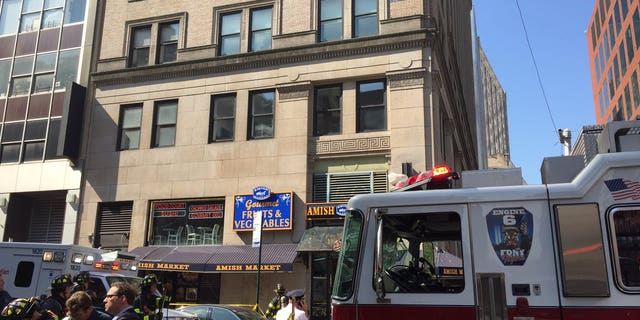 NEWYou can now listen to Fox News articles!
At least 32 people were sickened on Tuesday after a defective boiler triggered a carbon monoxide leak in a Manhattan high-rise, prompting an evacuation, New York City fire officials said.
Firefighters were called to the 12-story TriBeCa building between Murray Street and West Broadway about 8 a.m. after people reported high levels of carbon monoxide coming from the basement, FDNY Chief James Leonard said. The FDNY initially reported a fire at the location.
People in the building reported to officers that the high carbon monoxide levels occurred when they opened a suspicious package in the basement that contained white powder.
When officials arrived at the scene, they discovered a defective boiler with a broken pipe that was releasing high amounts of the toxic gas in the building, Leonard said.
GOOD SAMARITANS SAVE WOMAN TRAPPED IN HOUSE FIRE
The building was evacuated. Thirty-two people, mostly in the basement and first floor, were take to the hospital for carbon monoxide-related injuries after reportedly being exposed to the gas for a very short time, Leonard said.
Bomb squad examined the package -- a box with a salad bowl that was delivered the day before -- and declared there was "no hazard."