Dead humpback whale found floating off New Jersey coast
The dead humpback whale is one of over a dozen dead whale's found along the coast in recent months
A dead humpback whale was seen floating off the coast of New Jersey amid a shocking influx of dead whales found along the east coast from Maine to Florida. At least 13 whales have washed ashore or been found dead along the coastline since Dec. 1, according to the National Oceanic and Atmospheric Administration (NOAA).
Jersey Shore Fire Response posted images of the massive whale floating on their Facebook page. The dead humpback whale was seen floating around 4,500ft off the coast of Seaside Park New Jersey on Wednesday.
BIDEN ADMIN FACES BLOWBACK OVER WIND FARM CONSTRUCTION THREATENING MARINE LIFE: 'PUT WHALES OVER WOKE!'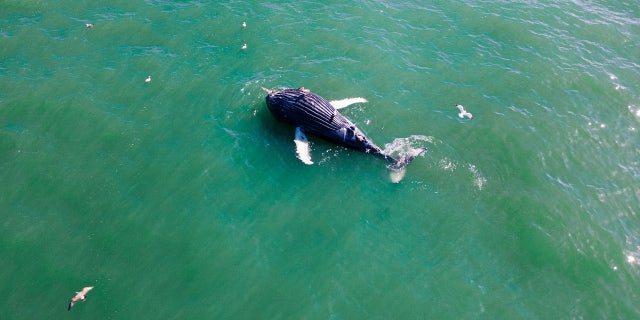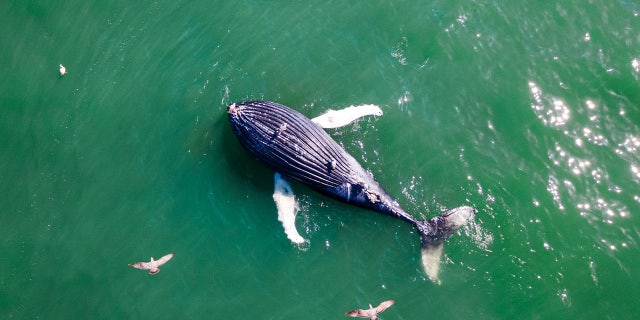 The whale was reported to the Marine Mammal Stranding Center and then to federal authorities with the NOAA.
MYSTERY OVER WHALE DEATHS SPARKS ALARM: WE NEED TO 'PAUSE AND INVESTIGATE'
"We are working with local authorities and the USCG (U.S. Coast Guard) to actively monitor the whale to see where it might land," NOAA spokeswoman Allison Ferreira said in a statement. Since the whale has not washed ashore, the cause of the humpback is currently unknown.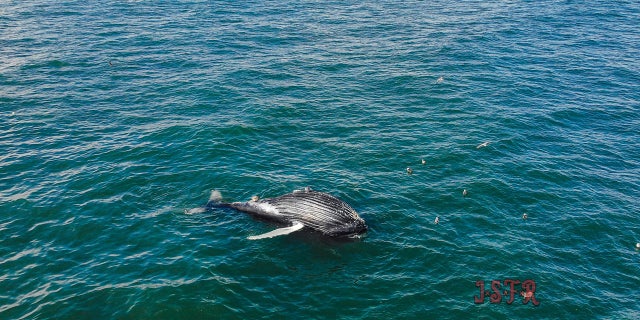 NOAA say there is no evidence that noise resulting from wind development-related site characterization surveys could potentially cause mortality of whales, as well as no specific links between recent large whale mortalities and currently ongoing surveys.
In 2017, NOAA Fisheries declared an Unusual Mortality Event for humpback whale stranding from Maine to Florida. Of the whales examined through Feb. 3, about 40% had evidence of human interaction.
CLICK HERE TO GET THE FOX NEWS APP
Near New Jersey, humpback whales may be following their prey, which are reportedly close to shore this winter. The prey also attract fish that are of interest to recreational and commercial fishermen.
Fox News' Julia Musto contributed to this report.