Daughter from 'House of Horrors' may have attempted Texas escape in 2010, report says
NEWYou can now listen to Fox News articles!
"House of Horrors" parents David and Louise Turpin abruptly left their Texas home in 2010 following what may have been an attempted escape by one of their children at the time, a new report said on Friday.
The family, according to an account in The Mercury News, picked up and abruptly left the land they lived on in Hill County, Texas, just days after one of their children left to get help. A neighbor ultimately brought the child home instead and the family disappeared soon after.
"All of a sudden, they just disappeared. No one ever saw them again," said Nellie Baldwin, 78, the current owner of the 36-acre property where the Turpin family once lived.
At the time, the family reportedly living out of a mobile home in the middle of the property. The move into that location came after they allegedly trashed the home they owned. A decomposed bathroom floor, garbage thrown throughout and feces on the walls were all later found in the house.
One of the Turpin daughters eventually left the mobile home and "went walking down the road," Baldwin claimed, before being picked up by a local resident.
"A neighbor came along. She told him to take her to a telephone," Baldwin told The Mercury News, adding that she didn't know where the neighbor ultimately took the girl or who she connected with -- if anyone -- on the phone.
Nellie's son Billy said that when they bought the property, neighbors reported that a girl had left the trailer and proceeded to ask a lot of questions of the neighbor whom she'd met.
The Turpins probably left, Baldwin said, because they anticipated a potential arrival from child protective services.
"Nobody around there had anything to do with them, because they were loners," Nellie Baldwin said.
David and Louise Turpin have been accused of abusing their children before the 13 kids were rescued Jan. 14 from their home in Perris, California. They have pleaded not guilty to torture and other charges.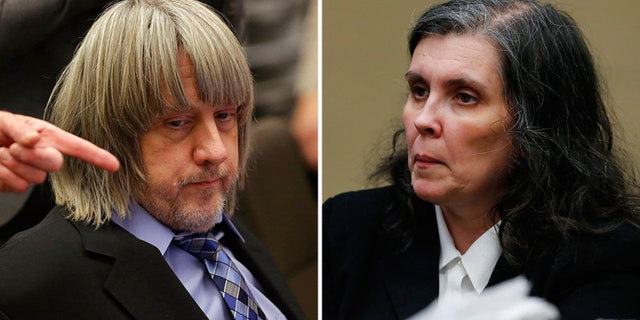 Deputies arrested the husband and wife after their 17-year-old daughter climbed out a window and called 911, officials said. Authorities said they found the siblings in the family's filthy home, with three of them shackled to beds when deputies knocked on the door.
Fox News' Lucia I. Suarez Sang contributed to this report.