Dashcam shows K-9 taking down knife-wielding suspect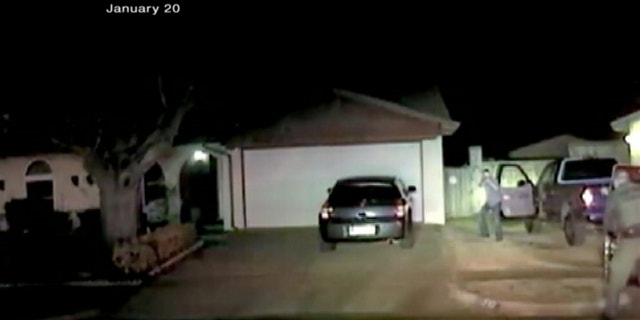 Dashcam video showed a police dog making quick work of a suspect holding a knife Monday night, taking him down in seconds.
It all started when a traffic stop turned into a police chase through Grand Prairie, about 7 miles east of Arlington, FOX 4 News reported.
TATTOO-COVERED SEX OFFENDER SOUGHT BY US MARSHALS AFTER PRISON RELEASE
After he stopped the suspect outside a home, Officer Jeff Payne said the man appeared to be pointing a gun.
"I see him get out of the car and my first thought was, I'm about to get shot, because he's out of the car well before I am and he's already taken the stance and he's already pointing at me," he told the news channel. "As I'm getting out of the car I'm looking at him and my first my eyes go straight to his hands and to me his hands looked empty."
PLANS FOR ROMANTIC DINNER WENT AWRY BEFORE TEXAS STUDENT DISAPPEARED
Instead of pulling the trigger, Payne let his canine out of the SUV. The dog, named Jurek, took off and tackled the suspect to the ground.
Investigators found later that the suspect, Michael May, was using a knife and a flashlight.
Police Chief Steve Dye said his officer showed incredible restraint by not firing his gun. He called the dashcam video a teaching moment.
"I think it's important to look at this because it really highlights the challenging environment of policing and those split-second decisions that officers have to make," he said. "I think it's equally important that when we don't usually full force and we would've been justified to use that level of force that we highlight the actions of these officers that officer did an outstanding job he save that person's life."
According to FOX 4 News, police believed the suspect may have wanted to be shot and potentially killed by police.
"I'm glad I didn't," Payne said. "I mean even though I would've been justified, it would've weighed on my heart having to have shoot somebody that didn't have a weapon. Even if I was justified in doing so, it's not something that we ever want to have to do."