Convicted terrorist accused of plotting to kill witnesses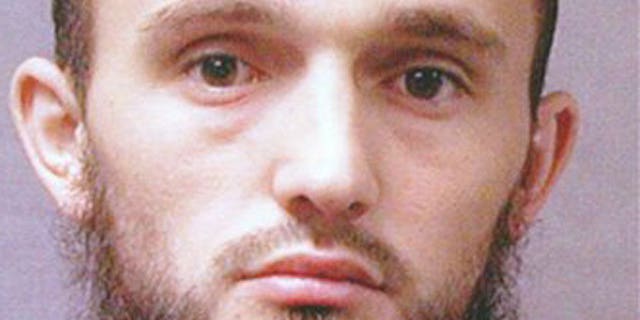 RALEIGH, N.C. – A North Carolina man sentenced to prison recently as part of a homegrown terrorist ring has been accused in a federal court document of plotting to kill witnesses who testified against him at trial.
An affidavit unsealed in federal court Monday accuses Hysen Sherifi of plotting against the witnesses from his jail cell. Authorities say an FBI informant posing as a hit man met with Sherifi's brother and a female friend and accepted $5,000 and a photo of an intended victim.
FBI agents have arrested the brother, Shkumbin Sherifi, and Nevine Aly Elshiekh, a school teacher. Now in federal custody at the New Hanover County Jail, each is charged with a felony count of use of interstate commerce facilities in the commission of murder-for-hire.
Hysen Sherifi, 27, was sentenced to 45 years in prison earlier this month in what prosecutors described as a conspiracy to attack the Marine base at Quantico, Va., and targets abroad. Five others, including construction contractor Daniel Patrick Boyd, have been sentenced to federal prison terms for terrorism charges related to raising money, stockpiling weapons and training in preparation for jihadist attacks.
No charges have been filed at this time against Hysen Sherifi related to the new plot, according to a search of a federal court database.
Shkumbin Sherifi and Elshiekh await a scheduled first appearance Friday in federal court in Wilmington. The two have applied for court appointed lawyers, who have not yet been assigned.
The U.S. Attorney's Office in Raleigh has released no information about those arrested.
In a 10-page affidavit filed under seal Friday, FBI Special Agent James Langtry writes that he developed a source as a confidential informant inside the New Hanover County Jail near Wilmington, where Hysen Sherifi was sent after a jury convicted him in October.
The informant soon befriended Sherifi, who requested help in hiring someone to kill three people who had testified against him at his trial, according to the affidavit. Sherifi specified that he wanted the witnesses beheaded and that he would be provided photos of the severed heads as confirmation of the deaths, according to the document.
FBI agents said in the document that they arranged for a second informant to pose as a hit man and monitored Sherifi during a series of jailhouse visits with Elshiekh.
Following a Dec. 21 visit at the jail, Elshiekh left a voicemail on the fake hit man's cell phone, identifying herself as "Hysen Sherifi's friend," according to the affidavit. It added that the FBI observed and recorded subsequent meetings between Elshiekh and the fake hit man, during which she provided names, addresses and photos of those targeted and $750 in cash toward the first murder.
Agents also observed Elshiekh meeting with Shkumbin Sherifi, who met with the FBI's fake hitman on Jan. 8, the court document said. According to the affidavit, the brother traveled from Raleigh to Wilmington to provide the hit man another $4,250 in cash.
The affidavit provides no information about the nature of the relationship between Hysen Sherifi and Elshiekh, but a woman with that same name was quoted in media reports from last year's terrorism trial in New Bern. The names of the witnesses allegedly targeted were redacted from the affidavit.
Nevine Elshiekh is listed as a special education teacher on the website for Sterling Montessori Academy, a charter school in Mooresville. Bill Zajic, the school's executive director, did not return a message from the Associated Press on Tuesday.
No one answered the phone at Elshiekh's Raleigh home Tuesday.
The Sherifi brothers and other family members emigrated from Kosovo following the wars that ravaged the former Yugoslavia in the 1990s. A call to the Sherifi family home in Raleigh on Tuesday was not returned.
Hysen Sherifi and others arrested in the terrorism conspiracy were members of the Islamic Association of Raleigh, the largest Muslim congregation in the Triangle. Several members of the mosque also routinely made the 4-hour round trip for the trial in New Bern to support the accused, who they described as innocent men being railroaded by overzealous federal authorities.
Messages to the media contact listed for the mosque were not returned.
_
Follow AP writer Michael Biesecker at twitter.com/mbieseck