Controversial 'Homeless Jesus' statue looking for home in Detroit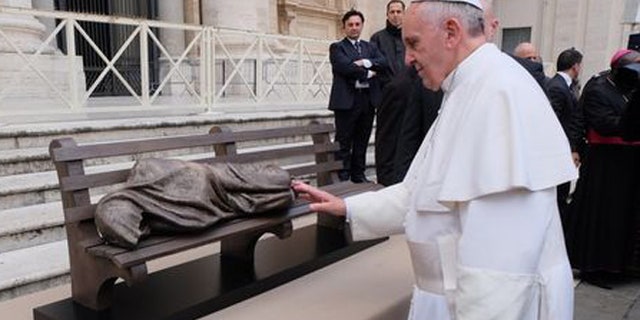 A Canadian sculptor wants to install his controversial "Homeless Jesus" statue in every city in the U.S. but is wondering if there's a home for it in Detroit.
The life-size bronze sculpture has gotten mixed reviews in some cities where it has been installed. But artist Timothy Schmalz told the Detroit Free Press Sunday the artwork is meant to inspire people to help those most in need, especially at Easter.
"It's putting it really within the grasp of everyone," he told the paper. "Most representations of Jesus are unattainable. But it's a sculpture you can merge with, something you can experience."
The 7-foot-long sculpture depicts Jesus as a homeless person asleep on a park bench. His face is shrouded in a blanket. He is identifiable as Jesus from the crucifixion wounds visible on his feet.
Schmalz, 45, said he chose Detroit for his next "Homeless Jesus" installation after he found an anonymous donor willing to cover the sculpture's $32,000 cost. The artist said now he just needs a place to put it.
The Free Press said the donor is a lawyer who grew up in the Detroit suburbs. He told the paper Detroit's bankruptcy elicited a "very strong tugging at me."
"It's needed there," he said. "And then I got a hold of Tim and said I'd like to do this."
The benefactor said he would like to see the statue installed at Sts. Peter and Paul Church in downtown Detroit, across from the Renaissance Center.
The church's Rev. Gary Wright said he would welcome it. The church helps the homeless every weekday by providing food, clothing and shower facilities.
"As a piece of art, it scrambles our brain. It makes you stop and think," Wright told the paper. "The typical person is going to look at it and say, 'Oh, that's what I don't want to be like.' And then we notice it's Christ and it makes us stop and think. The main message is that in the heart of each person is the presence of God."
He added, "The statue might be a comfort and consolation to our guests who are experiencing homelessness. They see their plight and suffering is honored in this way."
Schmalz's work garnered widespread recognition when he went to the Vatican and presented a model to Pope Francis who blessed it. His Holiness told Schmalz the sculpture was a "beautiful and excellent" representation of Jesus.
That opinion is not shared by everyone, however.
A "Homeless Jesus" model in Davidson, N.C., prompted a complaint to police about a vagrant sleeping on a park bench.The Free Press said that one Davidson resident complained the sculpture demeaned Jesus.
The sculpture has also been rejected by cathedrals in New York and Toronto undergoing major renovations.
Passersby have left flowers at a "Homeless Jesus" statue that went on display in Buffalo, N.Y., last week.
Other cities where "Homeless Jesus" has found a home include, Chicago, Phoenix, Knoxville, Tenn., Charleston, W. Va., Austin, Tex., and Washington.
"My hope is that every city in North America will have this," Schmalz told Christianweek.org last year. "It's like a 24/7 preacher, preaching a message that is very important in the world right now."
Click here for more from the Detroit Free Press.