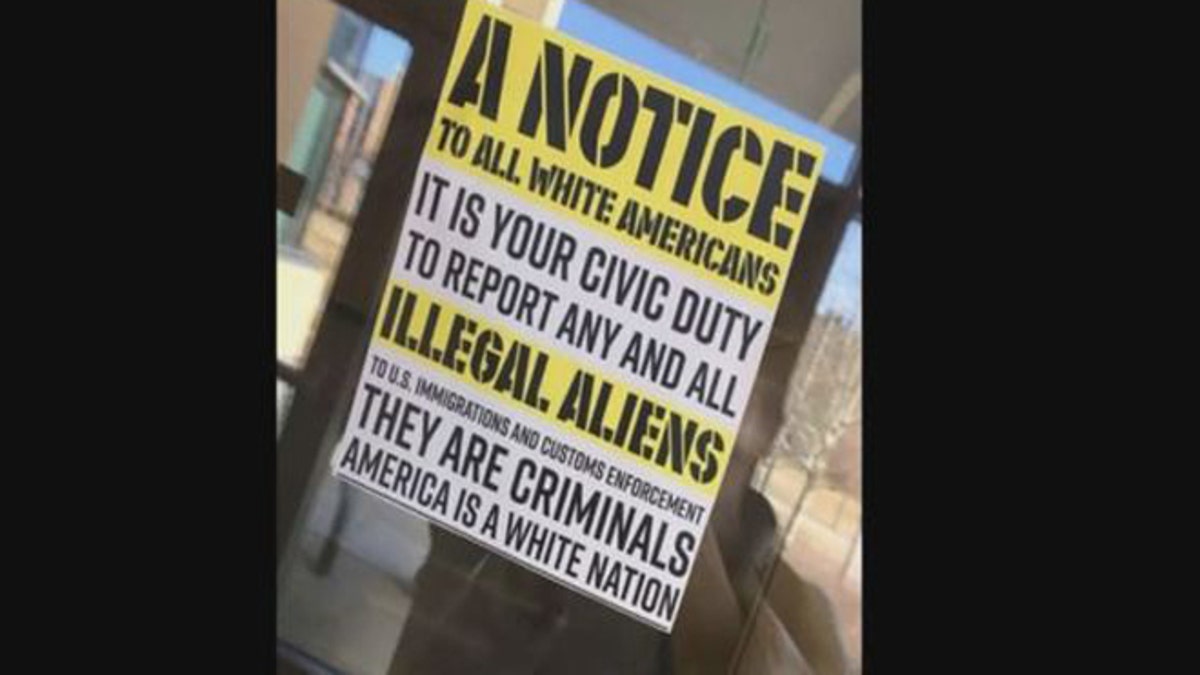 A Minnesota college's student-run diversity council has issued an apology for posting racist fliers on campus that were torn down by angry students.
A dean at Gustavaus Adolphus College, a prestigious private liberal arts school in St. Peter, told Fox 9 Minneapolis Wednesday that administrators knew about the fliers which called on "white Americans" to report all illegal aliens to federal authorities because "they are criminals" and "America is a white nation."
CONSERVATIVE STUDENTS AT LUTHERAN COLLEGE SAY THEY FEAR FOR PERSONAL SAFETY
Dean of Students JoNes VanHeck told the station that staffers were supervising when students put up the fliers Monday. Students ripped them down minutes later.
"We had multiple students who reported the incidents to the institution and that's the kind of positive bystander interaction we would hope for," VanHeck said.
COLLEGE STUDENTS VIOLENTLY PROTESTING CONSERVATIVE SPEAKERS TEND TO COME FROM WEALTHY FAMILIES, STUDY FINDS
The Diversity Leadership Council, an organization representing 21 student groups at the college was behind the fliers.
The council said on Facebook that a subcommittee and a social justice theater troupe posted the fliers to educate the campus about bias and the "importance of being an active bystander."
"We understand the language in these images may be hurtful," the council said. "We apologize to those who were negatively impacted."
VanHeck expressed some regret about what happened, the station reported.
"I think a message to students earlier in the day would have been a good move in retrospect," she told the station.