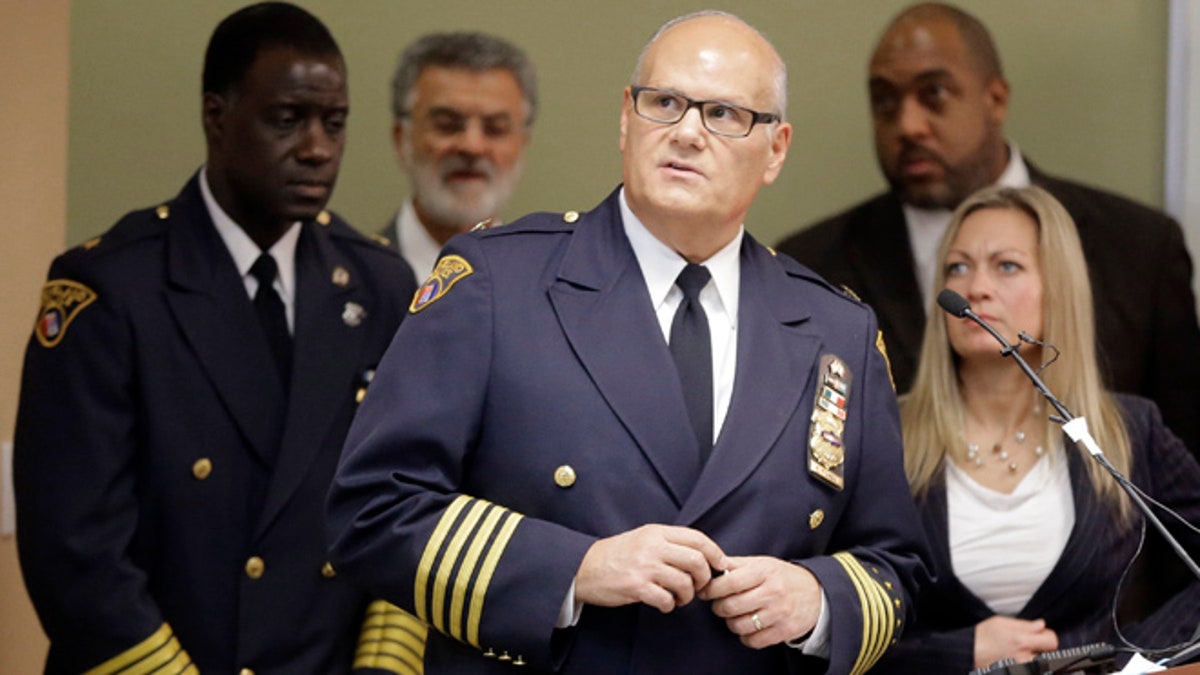 CLEVELAND – Cleveland police on Wednesday released the names of two officers involved in the shooting death of a 12-year-old boy who had a pellet gun, an incident that has touched off protests in the area.
The officers were identified as 26-year-old Timothy Loehmann, who was appointed to the force this year, and 46-year-old Frank Garmback, who's been with the department since 2008.
Also on Wednesday, police released video and audio evidence from the shooting of Tamir Rice, who died after he was shot at a Cleveland playground. Officers had responded to a call about someone with a gun in the area, and police say Tamir was told to raise his hands three times. He then reached into his waistband for what appeared to be a firearm, though it was later determined to be an airsoft gun -- which shoots small plastic pellets -- that did not have an orange safety indicator at the end of the barrel.
The boy was shot within two seconds of the cruiser pulling up next to him, according to the surveillance video released Wednesday, which is silent and shows the shooting in stuttering images. Tamir died at a hospital the next day.
Police said the video was being released as requested by Rice's family. They also released audio of a 911 call reporting a gun and a dispatcher directing officers to the scene.
"This is not an effort to exonerate. It's not an effort to show the public that anybody did anything wrong," Deputy Chief Edward Tomba said. "This is an obvious tragic event where a young member of our community lost their life. We've got two officers that were out there protecting the public that just had to, you know, do something that nobody wants to do."
Tomba refused to comment on what the officers said in their statements, including whether Tamir made any comments to them.
The officers involved have been interviewed, and police have obtained statements from several other people, Tomba said Wednesday during the safety committee meeting. He said police are monitoring social media for any indications of other potential witnesses and are pleading for people to come forward if they have information related to the case, even it is just a tidbit.
"We definitely need the public's help," Tomba said. "We want to make sure it's a comprehensive investigation."
The shooting has led to an investigation of the officer's use of force and protests referencing this and other police-involved shootings.
On Tuesday evening, several hundred demonstrators marched down an exit ramp and temporarily blocked rush-hour traffic on a busy Cleveland freeway. Police diverted traffic but didn't take action against the protesters, who chanted phrases such as "Hands up, don't shoot" and "No justice, no peace."
The demonstration came as protesters across the country decried a grand jury's decision not to indict a white police officer who killed an unarmed black 18-year-old in Ferguson, Missouri.
The Associated Press contributed to this report.