Child dies, 4 other kids injured after frantic car rescue in Minn. lake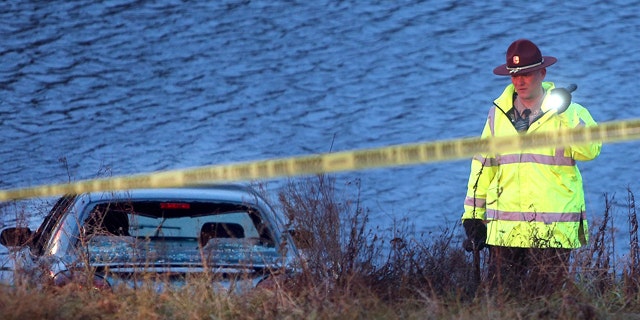 ST. LOUIS PARK, Minn. – Rescuers worked frantically to free five children trapped in a submerged car after it veered off a highway ramp in suburban Minneapolis and into a frigid pond, smashing windows to get inside even as a tow truck winched the car out. One of the children later died, the Minnesota State Patrol said.
The car was under water for up to 45 minutes after Thursday's crash. St. Louis Park city spokesman Jamie Zwilling said the children were unconscious and unresponsive when pulled from the vehicle. Conditions of the surviving children were not available Thursday night, and officials didn't provide details on the children's injuries or whether the car had filled up with water before rescuers got to the youngsters.
The driver of the car -- mother and stepmother to the children -- made it out on her own. One witness described seeing her in the pond, screaming for help.
"The car was under water, and she must have been standing on top," Jeff Robertson, who lives in a nearby apartment building, told the St. Paul Pioneer Press. "That pond is 8 or 9 feet deep, and the water was at her knees."
The crash happened in St. Louis Park, a western Minneapolis suburb. Minnesota State Patrol Lt. Eric Roeske said the car angled left off the ramp from Highway 7 to Highway 100 and plunged down a slope into the pond about 40 to 50 yards from the roadway. He said there was no guardrail separating the pond from the ramp.
The driver was identified as Marion Guerrido, 23, of Brooklyn Center. The Minnesota State Patrol identified the children as Aliyana E. Rennie, 1; Zenavia C. Rennie, 5; Zarihana M. Rennie, 6; Amani N. Coleman-Guerrido, 5; and Alarious M. Coleman-Guerrido, 7; all of Brooklyn Center. On its website, the patrol said Zenavia of Brooklyn Center had died.
Roeske said the first victim was pulled from the water about 25 minutes after the crash was reported about 6:10 a.m. Rescuers pulled the children out slowly, one by one, and the last wasn't removed until her or she had been in the water 45 minutes, he said.
Passers-by attempted to rescue the children before police arrived, but the 1998 Pontiac Grand Am was submerged in 8 to 9 feet of cold water. Roeske said the "incredibly cold, nearly freezing-temperature water" would have made it difficult for anyone to reach the children.
The cold water came up to the neck of one would-be rescuer who stood on the roof of the four-door sedan, Roeske said.
Roeske said investigators were working to determine whether speed was a factor in the crash. The road was wet from light mist, but not icy, he said. He said there was no indication that Guerrido intentionally drove into the water. No alcohol was found in her system.