Charges filed against Minnesota driver who allegedly didn't slow before hitting kids in park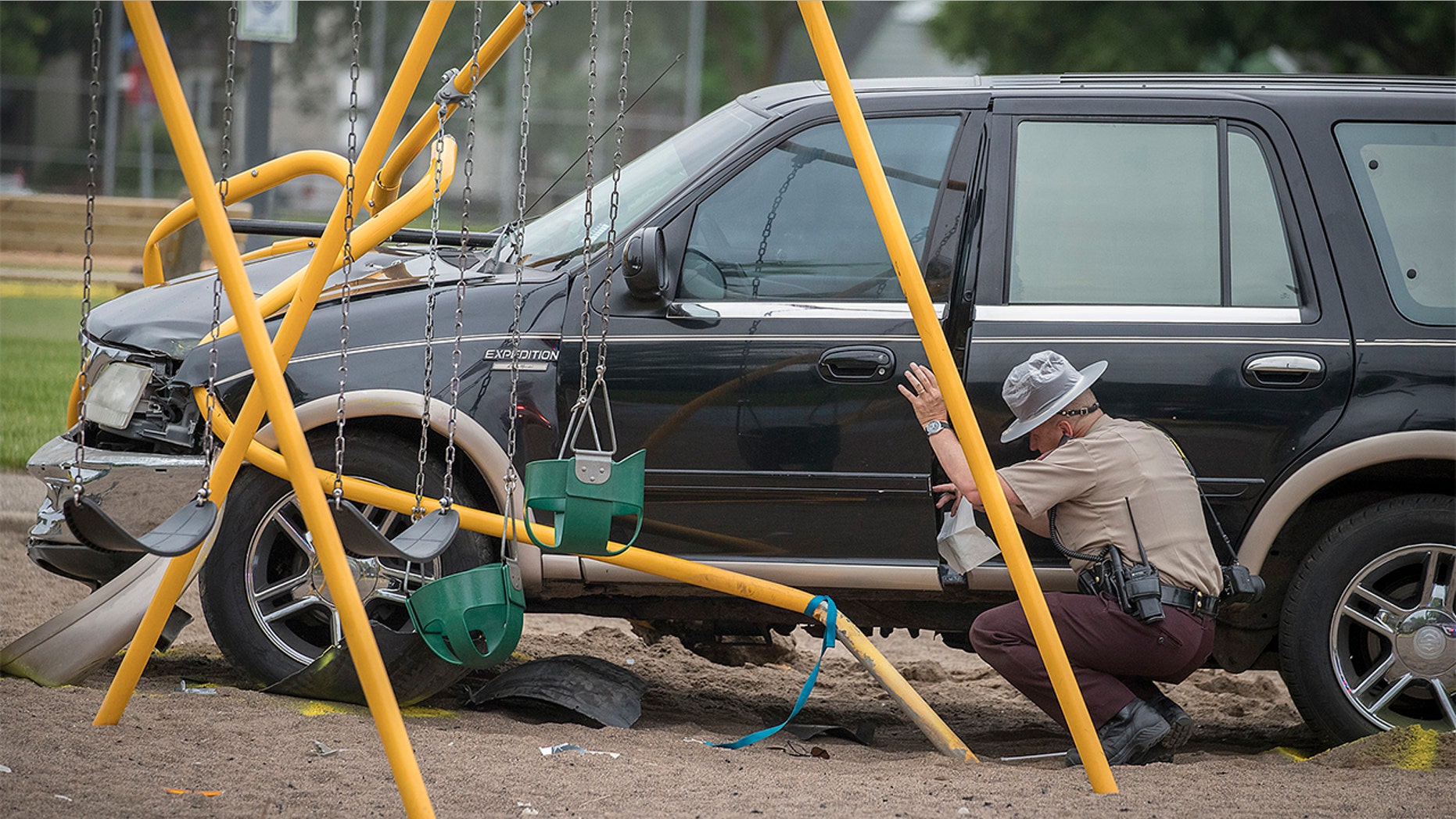 A Minnesota man who led authorities on a car chase earlier this week, and allegedly didn't use his brakes or slow down before running over two children in a park, was hit with a slew of charges on Wednesday.
Suspect Kabaar Powel, 27, drove faster than 80 mph through streets in Minneapolis on Monday as authorities worked to keep up with him, according to a criminal complaint from the Hennepin County Attorney's office, which announced the charges.
As Powell approached a basketball court in the park during his chase with troopers, dashcam video showed that his brake lights were "not activated," the complaint said.
The suspect "was charged with felony fleeing police in a motor vehicle resulting in great bodily harm and fleeing police in a motor vehicle resulting in substantial bodily harm," Hennepin County Attorney Mike Freeman said in a press release. "Powell also was charged with three gross misdemeanors. Two of them were criminal vehicular operation with bodily harm and a single count of possession of a pistol without a permit in a public place."
CHILD IN CRITICAL CONDITION AFTER POLICE CHASE ENDS IN PLAYGROUND CRASH
State troopers on patrol around 9:40 a.m. on Monday spotted a car surpassing the legal speed limit, the complaint said. The driver, allegedly Powell, "was not wearing a seatbelt and has a revoked driver's license," according to the complaint, and allegedly didn't stop when troopers attempted to pull him over.
Over the course of six minutes, troopers chased the suspect, who allegedly ran through at least 22 stop signs, "primarily through residential streets," the complaint said.
The suspect veered the vehicle into Bohanon Park, driving "near a tennis court and a basketball court," where a 30-year-old father was playing with his four kids, according to the complaint. Powell allegedly kept driving, ultimately hitting and running over a two-year-old boy and a four-year-old girl, the complaint said.
VANDALS LEAVING CONCRETE BLOCKS ON CALIFORNIA INTERSTATE CAUSING CRASHES, POLICE SAY
The 2-year-old, identified by The Associated Press as Kayden Peltier, was "completely" run over, according to the complaint, and the four-year-old, identified by the outlet as Lillianna, was "partially" ran over.
Kayden's injuries include fractures to his pelvis and cervical spine, as well as intracranial bleeding. He had to have his spleen removed and suffered an acute loss of blood, the complaint said. Freeman said he remained hospitalized.
Lillianna suffered several abrasions, contusions and bleeding on the brain, according to the complaint. Another brother, 3-year-old Konnor, had minor injuries, The Associated Press said.
Based on the dashcam video, four seconds went by between when the father attempted to flee the area with his kids and the collision, the complaint said.
After allegedly running over the children, the complaint said Powell crashed the car into a playground and attempted to flee on foot, but troopers were able to catch him. In his car, authorities recovered a nine millimeter handgun, which Powell lacked a carry permit for, and drug paraphernalia, the complaint said.
The Associated Press contributed to this report.