Carrie Underwood, American Girl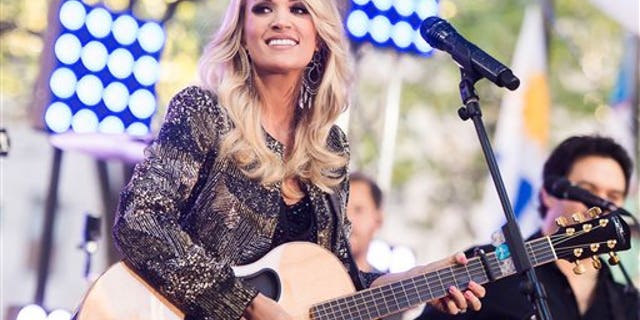 NEWYou can now listen to Fox News articles!
In her first release in almost three-and-a-half years, Carrie Underwood's fifth album, "Storyteller," drops Friday. Most of the 13 tracks center on the country star's familiar themes: tight-knit working-class communities, trust in faith, and intense struggle, whether personal or social.
The album's first single, "Smoke Break," manages to incorporate all three in profiling a small-town, hard-working woman who scuffles to feed four children. When you're doing all the giving, the lyrics explain, "It's hard to be a good wife, good mother and a good Christian."
No wonder the beleaguered, tee-totaling mom of the song sometimes needs "a stiff drink," she confesses. Furthermore, "I know it might sound bad, but sometimes I need a smoke break."
Underwood, 32, is a seven-time Grammy Award winner who has recorded 21 No. 1 singles and sold 58 million records worldwide. She has never shied away from underscoring her faith and religious beliefs and lays them out for all to see.
"It's how I was raised," she once told this writer. "I honestly believe there is something, somewhere, watching over me, whether it's angels or God himself pointing me in the directions I need to go. I'm very thankful."
Underwood's songs continue to make that clear, even as modern country music moves away from what used to be a staple of the genre, what old-school hillbilly star Porter Wagoner always called "a sacred number."
"After 'Jesus, Take the Wheel' came out," Underwood said, "I'd do interviews, and people would go, 'Wow, singing about God! That was risky!' I was like, 'Really?' Gospel music and country music has gone hand-in-hand for decades. Plus, it was just me. It was me!"
"The girl-next-door quality she exudes isn't an image," confirmed Randy Lewis, who has covered country music for the Los Angeles Times since 1981. "It's who she is."
On Nov. 4, for the eighth consecutive year, Underwood will co-host the Country Music Association's live television broadcast with Brad Paisley. Together, they are country's King and Queen of Clean, which is why Underwood was the perfect choice to play Maria von Trapp in NBC's 2013 production of "The Sound of Music." The live three-hour holiday special attracted 44 million viewers but got a "thumbs down" from reviewers.
Underwood has said she never wants to do or say anything she can't explain to her grandchildren, so she held her tongue the best she could.
"Mean people need Jesus," she tweeted. "They will be in my prayers tonight."
"Sometimes critics forget that a whole lot of folks travel the middle road," said Chrissie Dickinson, former editor of the Journal of Country Music. "Underwood has no problem traveling down that path."
While former country — and now pop star — Taylor Swift struts her cool, inviting such rock superstars as Mick Jagger and Alanis Morissette onstage to duet, Underwood downplays the flash. As glamorous as she is onstage, she also gives off an honest, down-to-earth vibe in sweatpants and T-shirts.
"I can't hang with people like Lady Gaga," she said. "I don't fit in there. That's not my heart. I grew up listening to country music. I love to bring other elements of music into mine. We have some borderline rock and pop songs, and I love doing stuff like that. But in the end, I'm a country artist, and we wanted people to know that right off the bat."
"I think that she is probably the best female vocalist to come out of Nashville, maybe ever," said her friend Miranda Lambert, the CMA's five-time Female Vocalist of the Year. "The mystery about her is that she does have this girl-next-door image, but then she comes out in fishnets. The first time I saw that, I was like, 'Hey, that's pretty gutsy!' I think it's cool. But if I had her thighs, I would do the same. With her, what you see is what you get. She's not fake at all."
Since winning "American Idol" in 2005, Underwood has made a career of celebrating the old-fashioned values she grew up near the tiny rural town of Checotah, Okla. The population hovers at just under 3,500, and the "beauty shop" is nestled in the town hardware store.
"The people in Oklahoma are not like any other people anywhere else," she told me. "I know there are good people everywhere, but it seemed like there were more good, happy people in Oklahoma. In my little town, if you drove your car down the street and you waved at somebody, they'd wave back. We all knew each other, and it was nice that I could go out with my friends and roam around the streets and my parents didn't have to worry. It was a good place to grow up."
The baby of a family of three girls, Underwood learned to sing in church as a child. Hers was a solid and seemingly all-American upbringing. The Underwoods resided in the same house for more than 30 years, raised a few cattle ("We're not the croppin' kind," Carrie explained), and the singer's grandfather lived five blocks down the street. A tomboy in her youth, she has always been extremely close to her mother, and continues to be today.
In high school, Underwood was a well-rounded student, the salutatorian of her graduating class who balanced athleticism and cheerleading with her studies. At college at Oklahoma's Northeastern State University in Tahlequah, where she studied broadcasting, she joined a sorority, volunteered for hospice care, and participated in beauty pageants and talent shows.
She waited tables to help her parents, an elementary school teacher and a paper mill worker, pay her tuition. She'd never been on an airplane until she auditioned for "American Idol," and almost turned back at the last minute.
Throughout history, from Roy Acuff to Dolly Parton, country music culled its biggest stars from its own brethren — people who grew up working the land or blue-collar jobs and sang about hard times. No matter how much money they made doing it (and Underwood is reported to be the biggest "American Idol" earner of all time, with a total career net worth of more than $110 million), country stars were symbolic ordinary people who never "got above their raising," or forgot their roots.
Most of that began to change in the '80s and '90s, and now new singers come to Nashville with a lawyer ready to draw up their deals.
Underwood manages to fill that gap, even as Nashville was at first skeptical of a young woman who had come to town via an "American Idol" win. But her genuineness quickly won over Music City and made her legions of new fans who had never seen her on the television show.
She remains a huge star, living in two worlds despite an old-fashioned view of life. This may be the key to her fan base.
"The adolescent girls and college-age women who fell in love with her a decade ago on 'American Idol' are now entering college, or starting careers, or getting married and raising families," Dickinson said. "But Carrie is still a relatable figure to a lot of them. It's easy to imagine her laughing and eating pizza with her gal pals or playing softball at the church picnic."
In 2010, Underwood married Mike Fisher, then a hockey player for the Ottawa Senators, now with the Nashville Predators. When he initially expressed an interest in knowing her, she suggested a group setting, as in the meet-and-greet line after a show in Toronto. Theirs is a union of equals, and not just in their careers. The two do Bible studies together, for example. The singer calls him "my best friend. I trust him more than I've ever trusted any human being. He makes me a better person, and hopefully I do the same for him."
Underwood is also a young working mother. Last February, the couple welcomed their first child, Isiah Michael Fisher. In June, when their dogs accidentally locked themselves in the car with the infant, Underwood didn't wait for help — she broke a window to free them.
"I'm a very practical person," she said.
With that mindset, Underwood looks to the future.
"I can't stay in the music business forever, and hopefully that ride's not over. I would just be so grateful for what I had."
More from Lifezette.com:
QUIZ: Can You Pass 5th Grade Geography?
Halloween for All Kids: That teal pumpkin signals the sweetest treat alternatives
Kids' Rooms Revamped: Give your children's space a makeover on the cheap