Cape Cod shark attack victim's aunt begged him to stay out of water, said he laughed off her fears
The aunt of the Massachusetts man killed Saturday by a shark in the waters off Cape Cod said she begged her nephew to stay away -- but he laughed off her fears.
Marisa Medici told the Boston Herald on Sunday she kept asking 26-year-old Arthur Medici not to go to Cape Cod, but that's where her nephew wanted to go "every day."
"Always I asked him, 'Don't go. Please, don't go.' He'd say, 'Aunt, they're not going to bite me. The sharks don't bite me. I'm Superman!' He was always making jokes about himself," she told the Herald.
Medici is the state's first shark fatality since 1936. He was bitten on the legs while boogie boarding off Newcomb Hollow Beach in Wellfleet, officials said; however, specifics of his injuries and the type of shark that attacked him have not been made public.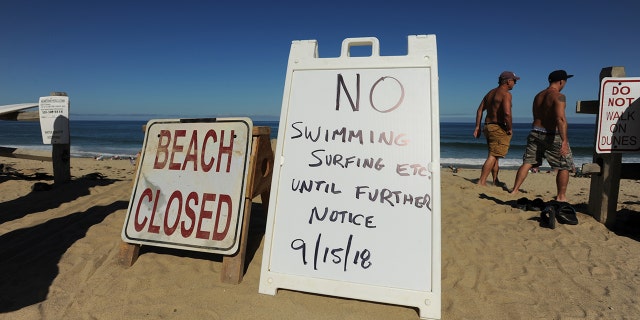 "I didn't know that he would die doing something that he loved. But he did," Marisa Medici told the Herald.
WATERS CLOSED FOLLOWING CAPE COD SHARK ATTACK; BEACH MANAGER SAYS PEOPLE WILL NEED TO USE 'COMMON SENSE' AFTER FATAL INCIDENT
Medici's cousin, Sarah Medici Coutinho, told Boston 25 on Monday the 26 year-old had a laugh that "filled up a room" -- but understood the serious risks of his hobby.
"He loved to surf, we knew it was dangerous," Coutinho said. "We knew there were sharks around the area. We would ask him not to go, my mom would ask him specifically not to go sometimes, but he loved to surf. He passed doing what he loved, and he was happy surfing."
Family members have set up a GoFundMe page to help with funeral costs, and to pay for transporting Medici's body to Brazil. The crowd-funded account had surpassed $29,000 as of Tuesday morning.
Officials in Wellfleet told Fox News on Monday morning the reopening of the beach for swimming is being discussed, but "no decision has been made at this time." Signs telling visitors of the beach closure have been placed at entrances since the fatal attack.
Fox News' Michael Bartiromo contributed to this report.