California tenure ruling could be shot heard around the nation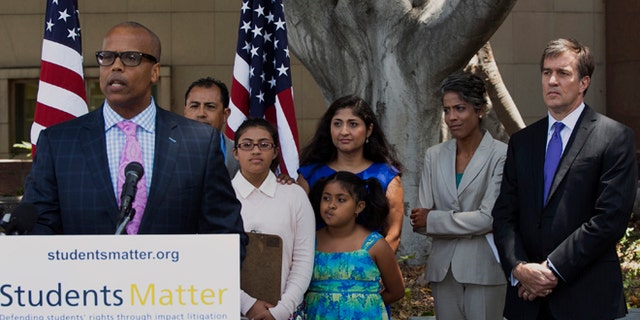 NEWYou can now listen to Fox News articles!
A landmark ruling by a California judge, finding that the state's tenure rules discriminate against poor and minority students by leaving bad public school teachers in the classroom, was the biggest blow yet in a battle several states have waged against the system.
The more powerful the cloak of tenure becomes, the more determined states are to dismantle it. More than a half-dozen states either through their Legislatures or executive branch reforms, are seeking to end or scale back tenure. In addition to keeping bad teachers in front of children, it makes the process of getting rid of them so costly that school districts either give up or compromise.
That's why the decision by California Superior Court Judge Rolf M. Treu last Tuesday echoed like a nuclear blast far beyond the Golden State. In Florida and New Jersey, where Republican governors are seeking to end teacher tenure, and Idaho, Illinois, Indiana, Ohio and Pennsylvania, where elected officials are seeking major reforms, the decision provided much-needed leverage.
"The decision in California is the first time the unions have been challenged," Sandi Jacobs, vice president and managing director of state policy for the National Council on Teacher Quality, told FoxNews.com. "This is new and groundbreaking, especially in states where legislation has not shown interest."
As if on cue, one powerful lawmaker in New Jersey referenced the boost the decision could give to longstanding efforts to take on tenure.
"This legislature should seize this opportunity and momentum to pass full tenure reform to improve education and lower property taxes in New Jersey," State Sen. Joseph Kyrillos, a Republican who wants to work with New Jersey Gov. Chris Christie to rein in unions and impose a merit-based pay system, told the Newark Star-Ledger.
Florida has tried to implement sweeping tenure reform twice since 1997, when the probationary period for tenure was dropped from one year to 97 days. The change proved unsuccessful, as only 101 out of nearly 11,000 teachers in the state were dismissed in the following year. The unions stepped in and won back many of their protections.
Twelve years later, a new reform plan was proposed to abolish tenure for all teachers in favor of renewable yearly contracts for the first ten years, at which point an educator could secure a five-year contract. The proposed bill was never passed in the State Senate.
New Jersey Gov. Chris Christie has been working toward reforming the tenure system in his state ever since he took office. Teachers currently earn tenure after three years on the job. Christie has proposed keeping that component, but adding a two-part assessment based on student achievement and teacher performance. Under his plan, any instructor deemed ineffective through the assessment must improve within a year or be fired.
In 2012, Christie signed a reform bill into law that added annual evaluations and sped up the dismissal process, but did nothing to end or change seniority rules.
While the California decision, which faces certain appeals by the unions, may give states the cover to take bolder action, most reforms to the teacher tenure system to date have been modest, and their benefits unclear.
Given the close relationship between teachers unions and many Democrat lawmakers, even tough reforms only work if there is a will to enforce them, said Audrey Spalding, educational policy director for Michigan-based Mackinac Center for Public Policy. The think tank recently published a report on how Michigan school districts responded to laws passed in 2011.
"We reviewed 200 teacher contracts, and school districts have gone out of their way to go around the laws that were passed," Spalding told FoxNews.com.
The Michigan laws were put in place to allow school officials to retain and reward teachers based on merit over seniority and ban collective contract bargaining. The study found that the reforms did not take hold immediately, with each district implementing changes on their own schedule and some even agreeing to union contracts without any changes made to the language to adhere to the new law.
"It's just not enough to change the law," Spalding said. "The devil is in the details, and implementation is key."
Other states have tried to implement tenure reform with mixed results.
The city of New York saw some positive results in 2008 when then-Mayor Michael Bloomberg took up tenure reform. He introduced a program called the "Principal Portal," which gave school leaders guidelines on which to base teacher evaluations. The number of teachers dismissed during their probationary period doubled from 3 percent to 6 percent. But Bloomberg has since left office, and his successor, Bill de Blasio, is an unabashed supporter of teachers unions who few expect to continue the Bloomberg policies.
When Di Blasio and United Federation of Teachers President Michael Mulgrew held a joint announcement that the city was giving teachers an unprecedented nine-year contract, Mulgrew was effusive in his praise for the mayor his union had endorsed.
"I call this the contract for education," said Mulgrew. "This is a mayor who actually respects a workforce, and says they do a good job."