California Ski Slopes Upgrade to Offer More Than Just Snow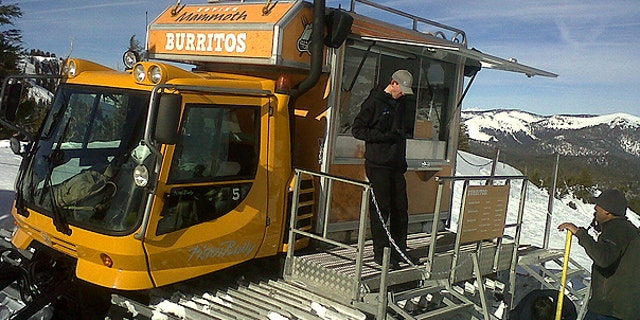 California's world class ski areas are off to an epic season, with 25-plus feet of great snow and scores of winter sports enthusiasts paying between $80-90 to spend the day carving turns.
This year, people are getting more bang for their buck as resorts offer more extras, both on and off the mountain.
"It's maybe half a billion dollars of improvements that have occurred over about the last 5 years in Tahoe," Julie Maurer of the Ski Lake Tahoe trade group says. "We are the happening, fun place to go, as far as skiing in the nation right now."
Of the many improvements, the Northstar-at-Tahoe ski resort, located in North Lake Tahoe, has added "smart terrain" to its slopes. Snow molded into half pipes and extra large moguls helps skiers and riders learn faster, with fewer bruises.
"Smart terrain is a way to get people to have those sensations of skiing and riding very quickly in the experience," Andy Buckley, Northstar's director of ski services, says. "As soon as you have those sensations, it really draws you into the sport."
While many resorts are expanding their kids clubs, mountain lodges and ski school programs, base villages are evolving too.
An array of shops, restaurants, and activities aim to make the mountain experience more fun for non-skiers. Among the additions, visitors can find tubing and ice skating, as well as pottery, candle and jewelry-making classes, bungee trampolines, and zip lines.
In South Lake Tahoe, Heavenly Valley has tapped into new technology in order keep skiers in touch. By downloading EpicMix, an online and mobile application, visitors can track their vertical feet, number of days skied, and keep connected with friends on the mountain.
Resorts in Southern California are innovating too.
Just a few hours from Los Angeles, Mammoth Mountain is bringing the popular taco truck right onto the ski slope. A converted snow-cat called Igor sets up shop in a different place each day. A roving pasta truck is also in the works, due to be up and running in a few weeks.
By mid-December, Mammoth boasted the most snow of any ski area in the world, meaning that these trucks will be servicing scores of hungry visitors from across the globe.
Likewise, hundreds of thousands of people are expected to visit Sierra Nevada ski resorts this week, and hotels are being built or upgraded to accommodate everyone at any price range.
Many hotels, like the Truckee Donner Lodge in Truckee, offer affordable rooms and discounted ski passes. For a high-end stay, the new Ritz-Carlton at Northstar offers the only 5-star caliber service at a California ski area.
Snow resorts and hotels are hopeful these investments and the season's fresh powder will elevate the guest experience, encouraging more people to head to California's slopes this winter.
Click here to read more Road to Recovery stories from Foxnews.com.