California mudslide crews 'do whatever it takes' in rescue efforts as death toll climbs to 19
As search and rescue crews continue to dig through the remnants of the mudslides that pummeled parts of Southern California, law enforcement raised the death toll to 19 on Saturday.
Morgan Christine Corey, 25, is the latest victim found among the debris, Santa Barbara County Sheriff Bill Brown said during a news conference. Morgan's younger sister Sawyer was previously also found dead. The sheriff asked that the public "keep this devastated family in your thoughts and prayers" and said there would be a candle light vigil on Sunday "to remember and honor" the victims.
Brown also said a 62-year-old man named Delbert Weltzin was found alive by rescue teams; the number of missing people stands at five.
CALIFORNIA MUDSLIDES: WHERE AND WHY THEY HAPPEN
"While every hour it remains less likely that we will find anyone alive, there is always hope," the sheriff said.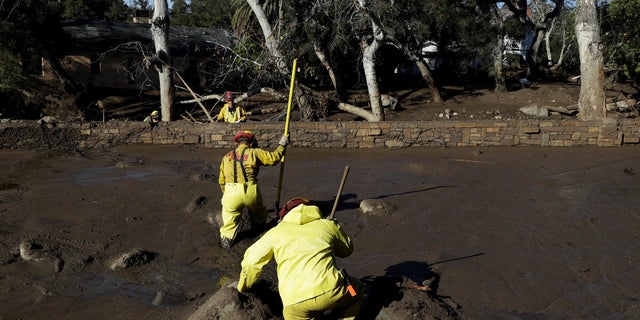 The number of searchers and recovery workers in Montecito surged to more than 2,000 in the days after significant rain led to mudslides that ravaged an area previously scorched by the Thomas Fire, which officials said was fully contained on Friday. The fire is the state's largest wildfire on record.
"We have to do whatever it takes," Capt. Tom Henzgen, leader of a team from the Los Angeles Fire Department, told The Associated Press.
Before the next bout of rain hits the area, crews were working throughout the day Saturday to clear debris basins, with officials saying there was still a lot more work to be done. But Tom Fayram, the deputy director of the county's flood control district, told The AP that the crews were making great progress.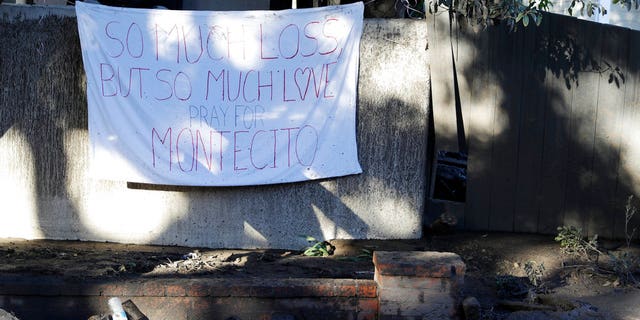 SOUTHERN CALIFORNIA WILDFIRES TRIGGER MASS DESTRUCTION, HURTING FAMILIES, ECONOMY
Crews in tanker trucks worked to remove the muddy water from the flooded sections of U.S. 101, a highway connecting Los Angeles to the Santa Barbara region.
The California Department of Transportation abandoned hopes of reopening the highway on Monday and said it was not known when the closure would be lifted.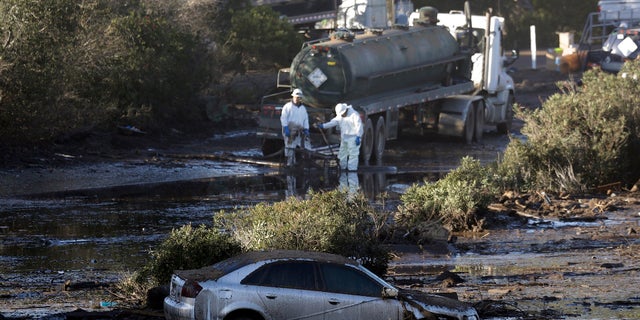 In the disaster zone, searchers used chainsaws and rakes to remove logs and sift through the remnants of what was left of multimillion-dollar homes.
Much of the area remained under mandatory evacuation orders, with the sheriff saying the area was "not a safe or convenient place to be right now."
The Associated Press contributed to this report.