California foster parents continue fight for Indian girl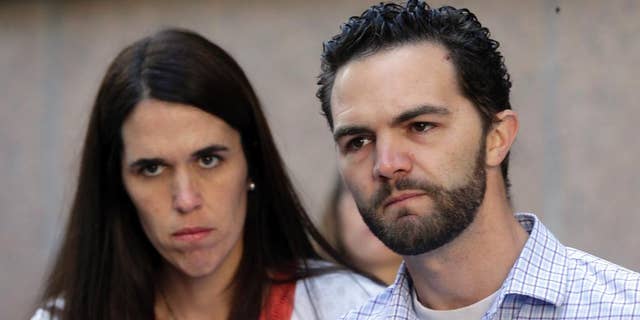 The scene was wrenching: A sobbing 6-year-old girl, clutching a stuffed bear as her foster father carries her away from the only home she has known for most of her life.
But Lexi's story didn't end in March when she was removed from a Santa Clarita home near Los Angeles. Her story isn't one of simple emotions but rather complex issues of ethnicity, government and history.
Lexi, who is 1/64th Choctaw, was placed with distant relatives in Utah under a decades-old federal law designed to keep Native American families together, and under California's Juvenile Dependency Law.
Her foster parents, Rusty and Summer Page, have fought a yearslong battle to keep her.
In a statement Thursday, the Pages said Lexi hasn't been allowed to see or hear from them in nearly three months.
"The fact that a child can be ripped away from everything she has ever know is unthinkable and something that no child, anywhere should ever have to endure. Every single day we think of Lexi just as she is surely thinking of us," the statement said.
"Lexi's attorney has regular, ongoing contact with Lexi and her family. She is thriving and happy," said an email from David Estep, director of the Children's Law Center of California, Lexi's court-appointed legal representatives.
On Friday, both sides will argue before the California 2nd District Court of Appeal. Observers say it's unlikely the Pages will win a reversal of a lower court ruling that ordered them to surrender the girl but their attorney has vowed to fight the case to the U.S. Supreme Court, if necessary.
The case is one of dozens brought by foster families since the Indian Child Welfare Act was passed in the late 1970s. Lawmakers found that Native American families were broken up at disproportionately high rates, and that cultural ignorance and biases within the child welfare system were largely to blame.
Lexi was 17 months old when she was removed from the custody of her mother, who had drug-abuse problems. Her father has a criminal history, according to court records.
Although foster care is supposed to be temporary, the Pages want to adopt Lexi and for years have fought efforts under the federal act to place the girl with relatives of her father, who is part Choctaw.
The Pages say the law is outdated and misapplied but their repeated appeals have failed. Lower courts found the Pages had not proven Lexi would suffer emotional harm by the transfer and in March the California Supreme Court refused to intervene.
Lexi is now living with relatives of her father in Utah who are not Native Americans. Lexi's two sisters live with the family or in the neighborhood.
Lori Alvino McGill, the Pages' attorney, will argue that based on what is best for Lexi, her case meets a "good cause" exception to the placement preferences of the Indian Child Welfare Act.
The issue is narrow but could have broad consequences, McGill said in an email Thursday.
"If the good-cause exception is not satisfied in a case like this one — where a child has thrived in a home for more than four years after suffering from drug exposure, neglect, and instability for the first two years of her life — then I think that raises serious constitutional questions concerning the statute's differential treatment of children based on their status as "Indian," McGill wrote.
Estep, of the Children's Law Center of California, said the Pages knew that Lexi wasn't available for long-term placement in their home and that out-of-state relatives had preference.
"We are hopeful that the court will find in Lexi's favor, as Lexi deserves to have permanence with her family," he said.
All sides in the case say they have Lexi's welfare at heart.
The Choctaw Nation has said that the girl had long-time contact with her Utah relatives, who spoke to her online and frequently drove out to see her.
"Despite all the delays, the Choctaw Nation can report that Lexi is safely home with her loving family and her sisters, and she is doing well," Waddel Hearn Jr., a spokesman for the Choctaw Nation, said in March.