Bystanders form 100-person human chain to help police search water for teen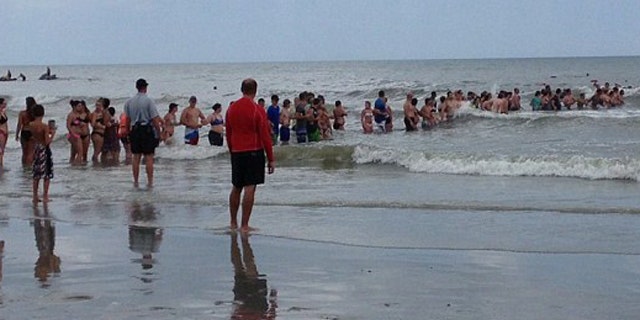 NEWYou can now listen to Fox News articles!
Authorities in South Carolina are searching for a 14-year-old boy who vanished after going for a swim in the Atlantic Ocean on Thursday.
Myrtle Beach police say the boy is from Georgia and was last seen wearing blue trunks. Crews responded to reports of two swimmers in distress at around noon, WMBF-TV reported. Lifeguards and a bystander were able to rescue the younger brother of the missing teen.
"I heard curdling, curdling screams, and the one lifeguard came up, and he said, 'I got the one little boy; I could not get the other little boy.' He's devastated," Terry Caviccho, who is vacationing from Pennsylvania, told the station.
Myrtle Beach police Lt. Joey Crosby said resources have been deployed to try to find the missing teen and the U.S. Coast Guard is assisting. Crews are expected to continue the search Friday at dawn.
As rescue personnel tried to comb the waters for the boy, bystanders formed a nearly 100-person human chain to help the search efforts.
Bystanders stayed in the water for more than an hour, even while they were being struck by waves.
"I just see everybody forming a line," Stephanie Kingery, who is visiting from Indiana, told the station. "I thought, I have five kids, and I thought, if that were one of my kids, I'd want as many people out there looking as possible."
Police said the chain helped search efforts because it enabled them to cordon off areas while police do a grid search.