Buried body discovered in Massachusetts is fugitive accused of killing police chief, officials say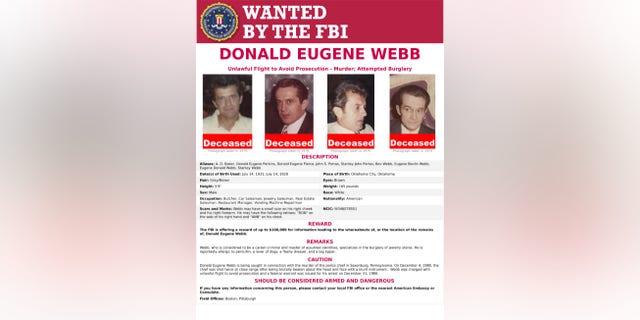 The remains of a man wanted for the 1980 murder of a Pennsylvania police chief have been found buried in a yard in Dartmouth, Ma., authorities confirmed on Friday.
The remains of Donald Eugene Webb were found on Thursday buried in the yard of a home owned by Webb's ex-wife.
He was wanted in the fatal shooting of Saxonburg, Pennsylvania Police Chief Gregory Adams.
Investigators say Webb shot Adams during a traffic stop.
PENNSYLVANIA COLD CASE: POSSIBLE HUMAN REMAINS FOUND IN POLICE CHIEF'S MURDER
"I was 12 years old when he was murdered, I lived on the county on the other end of the county and all the adults were talking about it," current Saxonburg Police Chief Joe Beachem told Boston 25.
"Getting in the field you can't help but think about it through your career," Beachem said.
Webb's car was found in Warwick, Rhode Island after the murder.
He is believed to have died approximately 17 years ago but investigators wouldn't confirm how.
Lillian Webb, the fugitive's ex-wife, won't be prosecuted in the investigation. She had led authorities to discover his body.
The Associated Press contributed to this report.