Broward County sheriff orders deputies to carry rifles on school grounds following Parkland shooting
Broward County deputies will carry rifles on school grounds "from this point foward," Sheriff Scott Israel announced Wednesday — one week after 17 people were killed at Parkland's Marjory Stoneman Douglas High School.
Israel said "qualified and trained" sheriff's deputies will be carrying rifles, including AR-15s, in an effort to "defeat any threat that comes to campus."
SCHOOL TEACHERS SHOULD BE TRAINED AND ARMED: JUDGE NAPOLITANO
Until the sheriff's office obtains gun locks and lockers, rifles will be locked in patrol cars, Israel said.
"We're going to make America safe," Israel said at a news conference Wednesday. "My approach to this whole thing is never again, never again, and every decision I make in this investigation is going to be geared towards making sure that I've done everything I possibly can to try and make sure these incidents never happen again."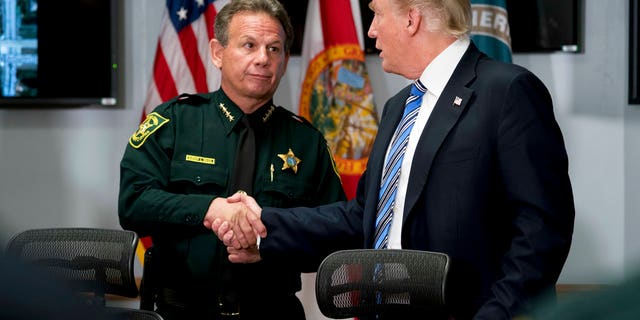 The sheriff said Superintendent Robert Runcie fully supports his decision.
Broward County has students enrolled in more than 300 schools.
Israel also advocated for "sensible gun control," and argued that he believes every school in the U.S. should have a resource deputy employed.
A resource officer was carrying a weapon when Nikolas Cruz opened fire on the school's campus last week. It's unclear what role the officer played in trying to thwart the shooter, as he did not discharge his firearm. It's also unclear whether the officer was aware of Cruz's past behavior at Stoneman Douglas.
The sheriff said those details are still being investigated.
The Associated Press contributed to this report.