Boston man remains critical following violent attack in New Orleans
A vicious attack in New Orleans left two men from Boston seriously injured, and the whole incident was caught on camera.
The victims, who have been identified as James Curran and Tim Byrne, were in town to attend the General Assembly of the Unitarian Universalist Association, the annual meeting of the liberal religious association.
The graphic video shows the victims walking along the 200 block of Bienville Street about 9 p.m. Saturday when two men rush up behind them.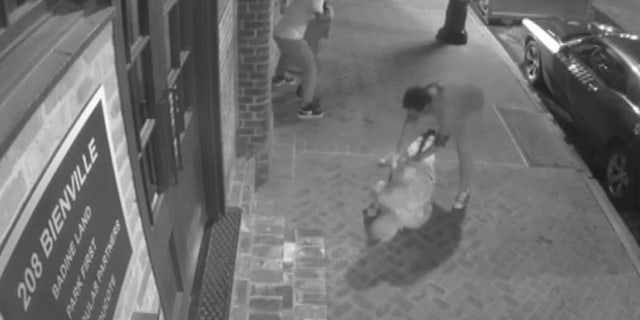 One of the attackers punches Curran in the head and then puts him in a choke hold and continues to punch him as he struggles to drag him to the ground.
INMATE DETAILS 4 PRISON KILLINGS: 'I DID IT FOR NOTHING'
Almost simultaneously, another man delivers a swift blow to Byrne's head, at which point the he collapses to the ground face first. The attacker quickly rummages through the Byrne's pockets as he remains motionless while two other men run up and appear to help rob both victims.
The four robbers run away moments later as they throw Curran, who appears dazed, to the ground.