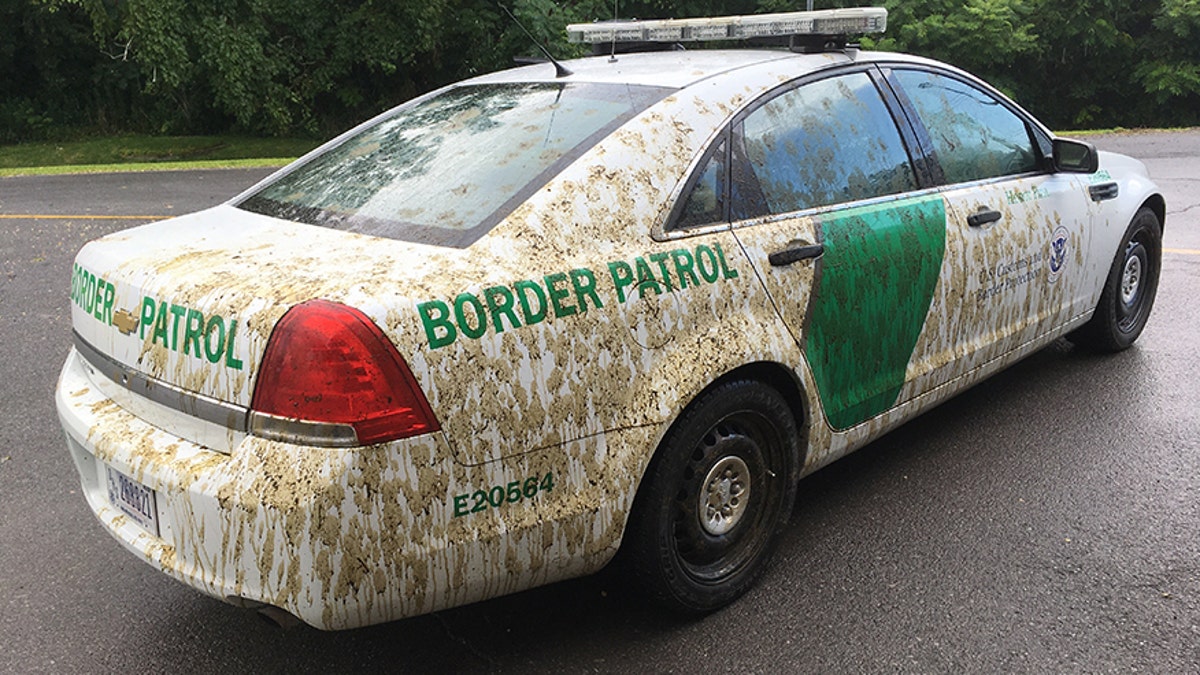 A Vermont man's alleged weapon of choice during an argument about immigration enforcement with a U.S. Customs and Border Protection agent was liquid manure.
Mark Johnson, who says his livelihood in agriculture has been nearly ruined by illegal immigrants working on local farms, is accused of spraying a border patrol vehicle with manure on Aug. 3 at the edge of a farm field about two miles south of the Canadian border.
He is due in court Thursday in North Hero to answer charges of assault and disorderly conduct.
The 53-year-old man, who does custom manure spreading in northern Vermont, told the Lake Champlain Islander, a weekly newspaper, he was unhappy with the lack of serious efforts by the immigration agency when it comes to illegal immigrants allowed to work on local farms.
"The Border Patrol, the sheriffs, state police, game wardens can't go onto the farms," Johnson said.
He told the Associated Press that he asked the Border Patrol agent why authorities were not doing more -- and he didn't like the answer.
"I used to go to all these farms, spread liquid manure and help them with chopping and everything else," he said. "Then the illegals started coming in, more and more and more, and every time I see the border patrol I stop and ask them, 'Can you please do something about it?'"
The Islander reported the border patrol agent said Johnson became very agitated and he figured he would get out of the way so Johnson could resume spreading manure on the field.
The officer said in police documents he thinks Johnson tried to spray the cruiser twice, but missed the first time. The second time, the entire right side of the vehicle was covered with manure.
According to documents, the patrol agent believed there was no need to file an accident report because there was no damage to the government vehicle. However, upon his return to the Alburgh Port of Entry, the Grand Isle County Sheriff's Department was contacted.
Customs and Border Protection spokeswoman Stephanie Malin told the AP the manure case is being handled by Vermont authorities. She said the border patrol focuses on the international border.
Immigration and Customs Enforcement is the primary agency responsible for enforcing immigration laws inside the United States.
Johnson, who said he'd seen a number of border patrol agents parked at different times near where he was spreading manure on Aug. 3, acknowledged he spoke with one of them about his frustrations but thought the agent had left when he turned on the spreader.
He said he didn't realize what had happened until the sheriff's department arrived an hour or so later to cite him.
"I thought I was far enough around him. He says I splashed him," Johnson told The Islander. "Department of Homeland Security. I thought that was supposed to protect us. How secure do you think I feel with what I have seen?"
Grand Isle County State's Attorney Douglas DiSabito told the weekly newspaper his office is taking the criminal case seriously.
"I think it is pretty outrageous behavior. For anybody to intentionally spray manure on anybody or anybody's property is just wrong," DiSabito said.
Johnson said he struggles to keep his business going, but that farmers with illegal immigrants are able to do better because they don't have to pay a proper wage.
"I have lost everything because of illegals," he said. "I'm not the only one that feels this. It is very, very sad."
Many Vermont farms rely on immigrant workers, some of whom are believed to be in the country illegally.
Johnson said he would represent himself in court on Thursday.
The Associated Press contributed to this report.