Bonnie Parker's .38 Special made legal by ATF ahead of auction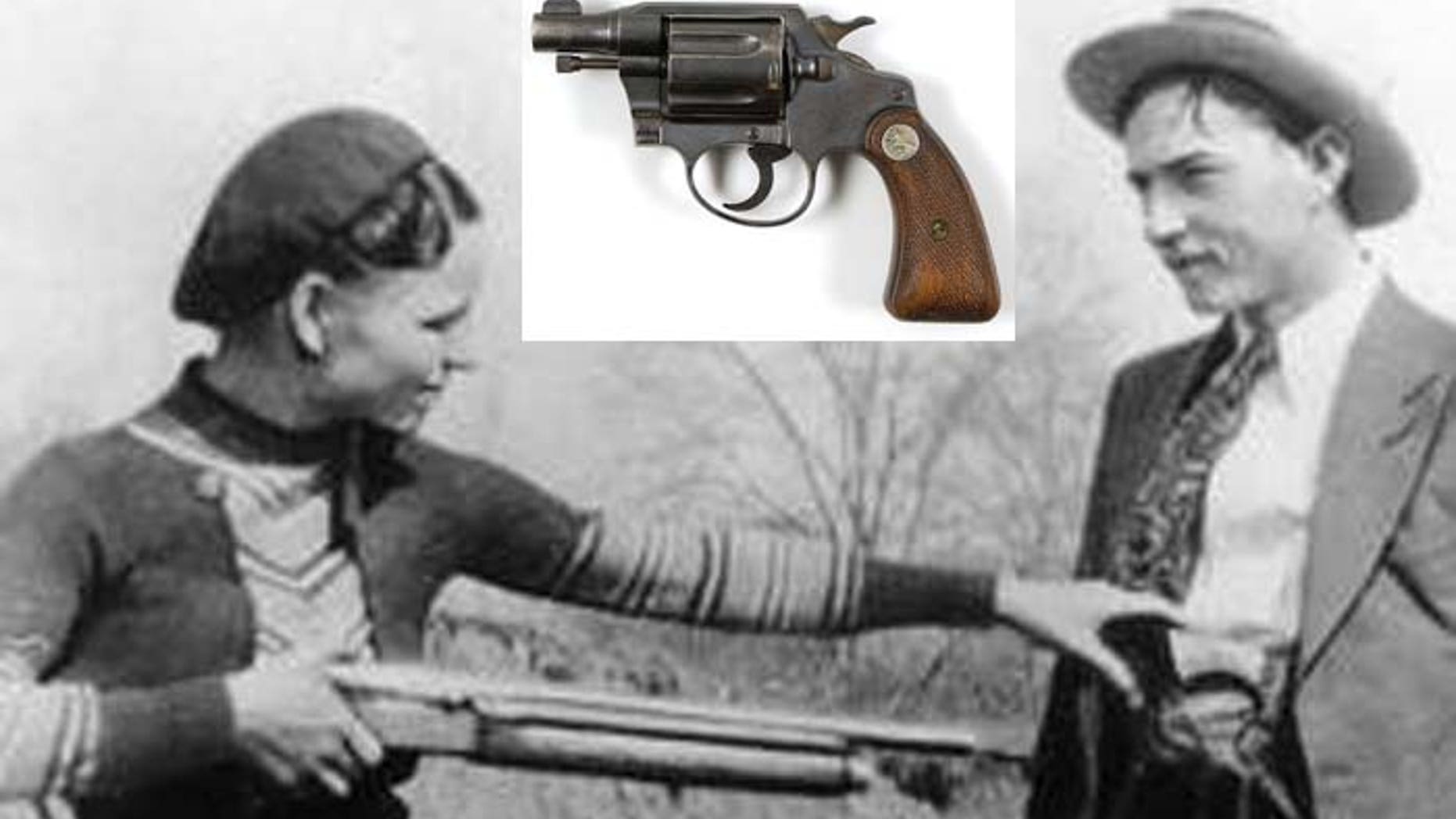 Calling all crime buffs: Here's your shot at history.
The .38-caliber revolver taped to Bonnie Parker's inner thigh when she and Clyde Barrow were killed by a Texas posse in 1934 has been made federally compliant and will be auctioned later this week.
The Colt .38-caliber Detective's Special revolver, which was recovered from Parker's body by Texas Ranger Capt. Frank Hamer, had its serial numbers obliterated in the heyday of Bonnie and Clyde's reign of terror, prompting Bureau of Alcohol, Tobacco, Firearms and Explosives (ATF) officials to issue a new number to make the handgun legal.
RR Auction in New Hampshire received the gun this summer from a private collector and noticed that the revolver had been altered, according to ATF officials from its field office in Manchester, N.H. The Gun Control Act of 1968 requires firearm manufacturers to place serial numbers on firearms and made firearms with removed, obliterated or altered serial numbers illegal to possess.
[pullquote]
ATF special agents were then able to obtain an ATF-issued serial number — ATF7620091 — for RR Auction, which was later stamped onto the revolver's receiver and making it federally compliant for an auction on Sept. 30, when it is expected to fetch upward of $200,000.
"ATF understands the importance of this historically significant firearm," Guy Thomas, Special Agent in Charge of the ATF's Boston field division, said in a news release. "We are pleased we were able to work in partnership with RR Auction to make the gun legally compliant."
Parker was just 24 when she and Barrow died in a hail of gunfire after being ambushed by law enforcement authorities in Louisiana. Their deaths ended a legendary Depression-era crime spree that spanned the central U.S. and included holdups of more than a dozen banks and scores of small shops and gas stations. The Barrow gang is believed to have killed at least nine police officers and several civilians in the course of its crime wave.
"On the morning of May 23, 1934, when my father and the officers with him in Louisiana killed Clyde Barrow and Bonnie Parker," a notarized letter written by Hamer on the gun reads. "My father removed this gun from the inside thigh of Bonnie Parker where she had it taped with white, medical, adhesive tape. My father said that one reason she had the gun taped to the inside of her leg was that, in those days, no gentlemen officer would search a woman where she had it taped … Sometime later, my father gave this gun to Buster Davis who had been a Texas Ranger and was, at the time, an FBI Agent."
The gun, which has a 1926 patent date, remains in fine mechanical condition, with all original factory markings, and has moderate wear on its grips.
"This is a well-known gun in Texas as it was displayed in several major museums (including the LBJ Library in Austin) for a two-year exhibition in the early 1980s," a listing at RR Auction reads. "There can be no other gun with a closer association to Bonnie Parker than the one taped to her body at her death."
Played by Faye Dunaway in the 1967 classic film "Bonnie and Clyde," Parker was glamorized as a chain-smoking, gun-toting gangster gal even though historians doubt that she played a key role in the gang. Born in Rowena, Texas, Parker met Barrow at the home of a mutual friend in January 1930, according to the most credible accounts. Over the next four years, they became household names before their deaths at the hands of a Texas posse that had been tracking the gang since it helped break several friends out of a Texas jail. They were later gunned down in 1934 on the outskirts of Bienville Parish, La.