Black Lives Matter Minneapolis apologizes about photo of 'lynched' man
Black Lives Matter Minneapolis apologized on Tuesday after it sparked rumors by sharing horrific photos that suggested a black man had been lynched -- even when police clarified the picture was of a white man who had hanged himself in a city park.
The group issued the apology on its Facebook page Tuesday night, sending condolences to the family of Michael Bringle, the man who committed suicide, and saying it retracted its earlier statements.
"As more information came out and Mr. Bringle's family came forward, it became clear that this was an unfortunate incident caused by mental illness," the group said.
It added: "We are sorry if our post offended anyone and hope that folks see we were simply echoing the questions and concerns that community members had."
Organizers said they had taken down the Facebook post, but it was widely spread during the hours it was up. Bringle, 50, was found hanging from a tree in Indiana Mounds Park in St. Paul. A passerby found the body just before 6 a.m. Tuesday and posted three photos of the scene on Facebook, suggesting that the man was a victim of a hate crime.
LOUISIANA COP SUES BLACK LIVES MATTER AFTER BEING WOUNDED IN DEADLY AMBUSH
"This is just a few blocks from where my auntie live I was just at this damn park two nights ago! This so damn foul!! I'm so fed up with this s***! They still killing us and we still killing each other! #MakeGoViral," the man wrote in the caption, leading to speculation the body in the photos was of a black man who had been lynched.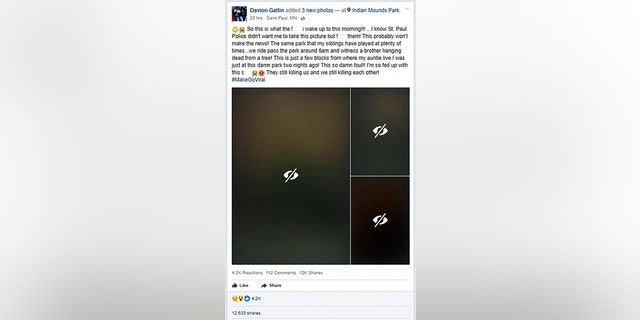 The post generated thousands of reactions, comments and shares. It soon caught Black Lives Matter Minneapolis' attention and organizers shared the photos on the group's Facebook page, claiming the man had been "lynched" and vowing they wouldn't let the incident "go under the rug." The post remained up for several hours before it was replaced by the apology.
The Ramsey County medical examiner concluded there's no evidence the death was anything other than a suicide and police urged people to stop and remove the photos from social media out of respect for the family.
MINNEAPOLIS NEIGHBORHOOD REELING, CALLS FOR POLICE REFORM AFTER COP KILLS AUSTRALIAN WOMAN
"To me, hearing about it on Facebook was so devastating," Bringle's sister, Kelly Brown-Rozowski, told the Minneapolis Star Tribune. "This isn't something to be shared in such a tragic way; he should be remembered for what a great man he was."
St. Paul Police Sgt. Mike Ernster called the post "disgusting."
But as of Wednesday morning, the original post of the incident has not been taken down. It has been shared more than 12,600 times.