Black Lives Matter flag flies over Vermont school despite backlash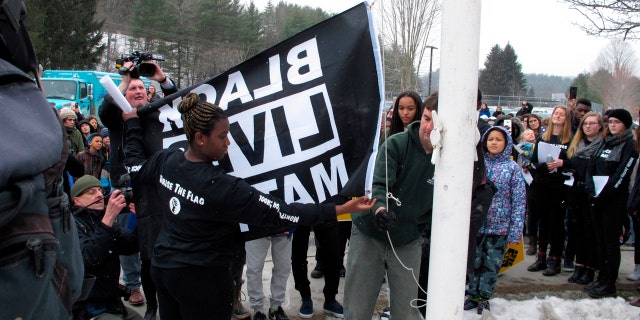 A high school in Vermont's capital raised a Black Lives Matter flag Thursday morning in honor of Black History Month.
Students at Montpelier High School, where 18 of 350 students are black, took turns raising the flag in a ceremony attended by hundreds of students, staff and community members.
The decision to fly the flag had drawn criticism from Republican state legislator Thomas Terenzini, who told WPTZ this week that the school was setting "a bad example."
SCHOOL DENOUNCED FOR PLANS TO FLY BLACK LIVES MATTER FLAG
"I don't see myself as being a bigot or prejudiced but I just don't think that Black Lives Matter is a national organization to look up [to]," Terenzini said.
Several police officers were at the event because of protest threats mostly from out of state, said Montpelier Police Chief Anthony Facos. There were no protesters at the ceremony.
Officials said the school has received an outpouring of support from the community.
"We are proud to do this because it honors the reality that the experience of our ... black students is not the same as the experience of our white students," Superintendent Brian Ricca said. "And our goal has been to have a substantive conversation about this, not only in our building but in our community."
"I think black lives matter in all realms. And really the education system is where it starts," said Joelyn Mensah, a senior who co-founded the Racial Justice Alliance.
"People choose their flags because they want to represented and they want to be seen," Mensah told WPTZ. "We students do not feel like we are represented or seen in our education and we are here to raise the flag because we want to be seen and we will demand to be represented in our education."
A similar flag that flew at the University of Vermont in the fall of 2016 was stolen.
The Associated Press contributed to this report.