Bison, cars endangered by deep snow in Wyoming's Grand Teton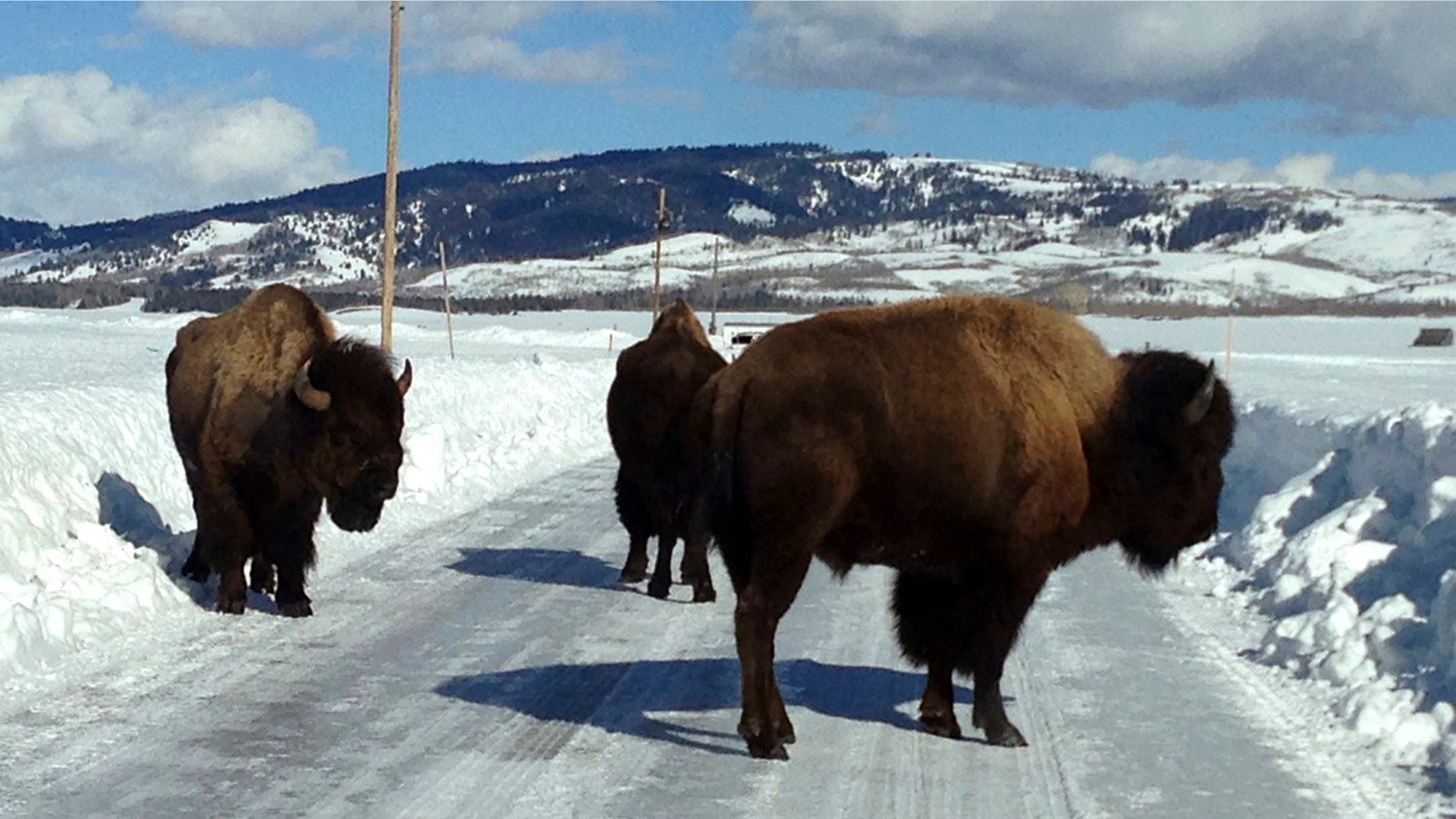 CHEYENNE, Wyo. – Unusually deep snow in Grand Teton National Park has made life dangerous for bison lumbering on the park's only plowed highway and for motorists traveling the route, prompting park workers to escort the big animals to safer areas and urge drivers to slow down, park officials said Tuesday.
The problem is that bison, which can weigh up to 2,000 pounds, prefer to use the road rather than struggle through the 3 feet of snow that accumulated recently.
Vehicles have killed at least one and possibly two bison in the park so far this year after cars and trucks killed five in all of 2016. On Saturday, a truck killed a bison on U.S. Highway 26-89-191. A bison hit in January has yet to be found.
Hoping to prevent a run of collisions that can be just as dangerous for motorists, park officials in trucks guided small groups of bison along several miles of the highway twice over the last four days.
"They're definitely very tired. So we make a long, slow escort to get them to safer areas," said park spokeswoman Denise Germann.
Park officials also plowed a side road they usually don't bother clearing to help bison move to areas with less snow covering the shrubs and grass they like to eat. Moose have also been spotted taking advantage of the plowed route through Grand Teton, Germann said.
Deep snow has put wild animals in close quarters with people elsewhere in the Rocky Mountain region this winter. Oregon wildlife officials recently killed five cougars that left the snowy wilderness to feed on pets and chickens in a town.
Wintry weather in the Rockies also has been unusually hazardous for antelope, which have been stranded on river ice, and horses unlucky enough to get stuck out in deepening snows.
On the National Elk Refuge just south of Grand Teton, supplemental feeding of elk and bison with alfalfa pellets began three weeks earlier than usual because the snow covered up their natural food.
Then even more snow fell: So far this month, Jackson Hole at the base of the Teton Range in the park has been walloped with more than 30 inches in a series of storms.
The snow and wind cut off electricity to parts of the popular resort area and closed Jackson Hole Mountain Resort for five days. Normally jubilant about extreme weather, ski resort officials reopened Monday after the big hit at peak season.