Big Pharma funded anti-US militia in Iraq, US veterans allege in lawsuit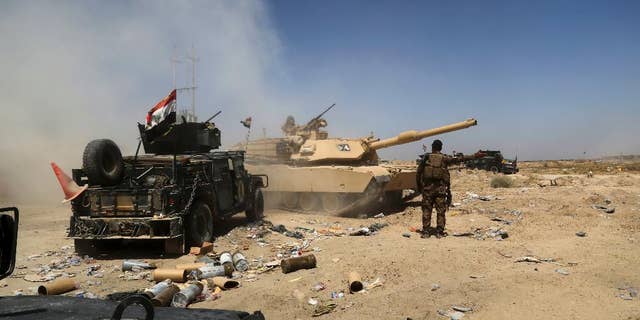 U.S. and European drug companies indirectly yet knowingly funded Iran-backed Iraqi militias that carried out attacks against U.S. troops, veterans of the Iraq War alleged in a lawsuit filed Tuesday.
The lawsuit alleges that five drug companies won contracts with the Iraqi government during the 2003 peak of the war with knowledge that free drugs and medical devices would end up in the hands of a Shiite militia.
That militia would then sell the drugs and devices to the black market to fund its operations against the U.S., the New York Times reported.
Named in the lawsuit are U.S. firms General Electric, Johnson & Johnson and Pfizer and European drugmakers AstraZeneca and Roche Holding A.G.
The companies won contracts with the Iraqi Ministry of Health that at the time was controlled by the leader of the Mahdi Army, a group known for attacking U.S. troops and working closely with Lebanese paramilitary group Hezbollah, which the U.S. has designated a terrorist group, the Times reported.
The group was known as the "Pill Army," according to the Financial Times, as some of the fighters were known to have been paid in drugs rather than cash.
The budget for Iraq's health ministry skyrocketed from $16 million in 2003 to more than $1 billion in 2004 following the influx of aid from the U.S.
To win the lucrative deals with the ministry, the companies allegedly paid bribes in the form of "free goods" – amounting to as much as 20 percent of the contract value, according to the suit, USA Today reported.
The Iran-backed militia then allegedly sold the free drugs and medical devices to the black market – providing an important source of income to carry out attacks against U.S. troops, the lawsuit alleges.
Between 2004 and 2013, the companies allegedly also created a "slush fund" that was created to pay for after-sales support but in reality went to the pockets of officials at the ministry, providing another source of income to the militia, according to the Financial Times.
The suit cites contracts between the Iraqi government and the companies, leaked reports, press accounts and testimony of informants as evidence of wrongdoing.
The legal challenge is waged by attorneys from a firm led by Ryan Sparacino and the litigation firm of Kellogg Hansen. The suit was filed by a group of military veterans and their family members according to a law that allows U.S. citizens injured by terrorism to seek damages. More than 100 plaintiffs are included in the lawsuit.
"While Americans worked to rebuild Iraq, many were attacked by a terrorist group that we allege has been funded in part by the defendants' corrupt sales practices," Josh Branson, a Kellogg Hansen partner, told the Times.