BIAS ALERT: Stephanopoulos gets tough on Clinton Foundation, leaves out his own donations
ABC newsman George Stephanopoulos gave Hillary Clinton's campaign manager a grueling grilling over the scandal-scarred Clinton Foundation's future on Sunday. But Stephanopoulos, a former aide to President Bill Clinton, must have forgotten to disclose his own five-figure donations to the organization.
Clinton has said if she is elected president, the controversial family foundation will cease taking foreign donations, but other media outlets, including the Boston Globe and the liberal Huffington Post, have called for it to be shut down altogether. Speaking to campaign manager Robby Mook, Stephanopoulos wondered if the post-election pledge was not tantamount to admitting Clinton was wrong to take previous donations.
"You announced this week that the foundation would no longer take contributions from foreign governments or corporations, if Secretary Clinton wins the White House," Stephanopoulos stated, before asking, "Doesn't it suggest that taking those contributions when Secretary Clinton was serving as secretary of state was wrong?"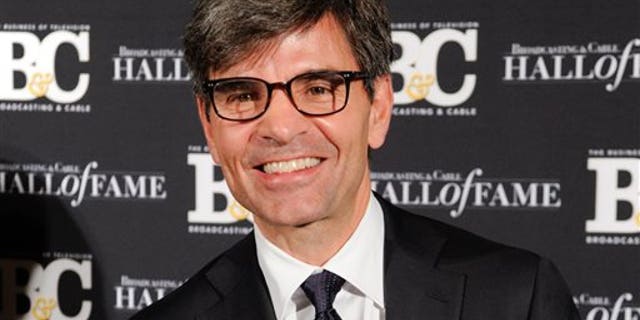 Stephanopoulos was communications director for the 1992 presidential campaign of Bill Clinton, then served as White House communications director and senior adviser for policy and strategy before leaving following Clinton's first term.
On Sunday, Stephanopoulos did not mention that records show he has personally donated $75,000 to the foundation, noted NewsBusters. But he wasn't finished putting the heat on Mook, who defended his boss by citing some of the positive work the foundation purports to have done.
"The Clinton Foundation is clearly a liability for Hillary Clinton as she seeks the presidency," Stephanopoulos said, quoting a recent Globe editorial. The foundation should remove a political and actual distraction and stop accepting funding. If Clinton is elected, the foundation should be shut down."
Critics say the foundation's receipt of contributions from foreign people and entities seeking business deals with the U.S. while Clinton served as secretary of state created the appearance of "pay to play."
Stephanopoulos donated $25,000 annually in 2012, 2013 and 2014, the foundation's records show. He did not disclose the contributions to viewers, even when interviewing "Clinton Cash" author Peter Schweizer, whose book blew the lid off alleged improprieties at the foundation. He did finally get around to acknowledging his donations -- in May 2015.
"I made charitable donations to the foundation in support of the work they're doing on global AIDS prevention and deforestation, causes I care about deeply," Stephanopoulos said on his blog. "I thought that my contributions were a matter of public record. However, in hindsight, I should have taken the extra step of personally disclosing my donations to my employer and to the viewers on air during the recent news stories about the foundation. I apologize."
NewsBusters blasted Stephanopoulos and his network for not reprising the disclosure Sunday while interviewing Mook.
"ABC demonstrated a marvelous case of hypocrisy on Sunday when it comes to its transparency and perhaps conflicts of interest," NewsBusters wrote.