Betty Shelby case: Jurors deliberating in Tulsa officer's manslaughter trial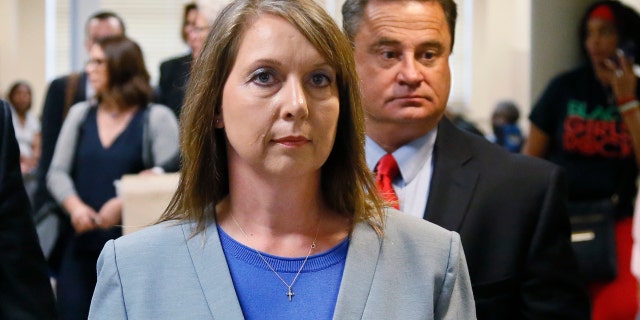 TULSA, Okla. – Jurors began deliberating Wednesday in the manslaughter trial of a white Oklahoma police officer who fatally shot an unarmed black man last year.
The jury will decide whether Tulsa officer Betty Jo Shelby went too far Sept. 16 when she killed 40-year-old Terence Crutcher on a city street where his SUV had stalled.
The jury got the case shortly after noon, following closing arguments in which prosecutors said Crutcher was not a threat to Shelby, did not make any aggressive moves toward her or any of the responding officers and didn't say he was going to be aggressive toward her. Shelby, who has been on unpaid leave, faces four years to life in prison if convicted.
Defense attorney Shannon McMurray said Shelby shot Crutcher because she thought he was reaching into his SUV for a gun. There was no gun in the vehicle.
"To somehow imply that she was supposed to see what was in this door panel is absurd. It's deceitful and you should disregard it," McMurray told jurors.
But in his closing remarks, Assistant District Attorney Kevin Gray challenged the defense argument that Shelby shot Crutcher as he appeared to be reaching into the vehicle. Gray told jurors that enhanced video clips of the shooting — captured on police dashboard camera and a helicopter hovering overhead — appear to show that Crutcher was shot five seconds before he appeared to reach inside the SUV.
The defense attacked prosecutors for charging Shelby with first-degree manslaughter just six days after the shooting, saying the case was rushed.
Tulsa County District Attorney Steve Kunzweiler said defense attorneys know it was "a bad shoot."
"Do any of their attacks on me have anything to do with Sept. 16? Don't let yourself be distracted," Kunzweiler told the jury.
Throughout closing arguments, Shelby, 43, looked straight ahead and showed no emotion. Her husband, also a Tulsa police officer, sat in the row directly behind the defense table. Crutcher's family and community members occupied many of the seats in the courtroom.
Crutcher is one of at least 20 black people in the U.S. whose deaths after police encounters in recent years have brought national attention and galvanized the Black Lives Matter movement. The movement has called on people to demand more accountability from law enforcement.
The video taken of Crutcher's shooting by the dashboard camera and helicopter shows Crutcher walking away from Shelby toward his SUV with hands above his head.
Shelby's attorneys say that in the two minutes before cameras began recording the encounter, Shelby repeatedly ordered Crutcher to stop walking away from her and get on the ground.
Shelby took the witness stand in her own defense during the trial, testifying that she feared for her life when she shot Crutcher.